Land of the rose and sunshine;
Land of the summer's breeze;
Laden with health and vigor,
Fresh from the Western seas.
Excerpt from "Oregon, my Oregon," the state song of Oregon
Although Portland has been getting all the attention lately thanks to the popular IFC comedy series Portlandia that explores the eccentric misfits who embody idiosyncrasies of modern culture, Oregon is more than that!
There are 36 counties in The Beaver State. And if you are looking to make Oregon your next home, you can choose from a mix of metropolitan areas, coastal cities, or small towns in the Cascade mountain range. The state offers the ideal place for virtually anyone. Among other perks, the crime is low, the air is clean, and people are healthy.
Moving to Oregon
According to the United Van Lines 40th Annual Movers Study, Oregon makes up the top ten list of the nation's most popular moving destinations together with Arizona and Nevada. Most people moving to Oregon did so for a job (53%), with retirement as the second most popular reason (19%). And Portland is still among the favorites for Millennials.
Whether you have already made up your mind and started packing or just contemplating your move to the most diverse state in the country that's slightly larger than the United Kingdom, we've got you covered. Compare your checklist with ours or learn why Oregon is worthy to be called your next home. If you also have a car that will follow you to the new destination, we'll share a few tips on how to get it there.
Cost of Living
Although the cost of living in Oregon is slightly higher than the national average, the amount of living expenses also varies significantly by area. Small towns and rural areas may see costs way below the national average, while Portland is one of the most expensive cities in the US. Wherever you choose to live, housing, transportation, and health care will be your biggest expenses.
Housing prices are on the rise in Oregon. Thanks to an influx of new residents that have helped increase development and real estate prices, the median home value in The Beaver State is $307,000 according to Zillow. The website also predicts that the home values in the state will rise 2.5% within the next year. The median rent price is also quite costly at $1695.
Don't despair. There is still a handful of affordable places in Oregon. If leaving in a big city is not a dealbreaker for you, then consider this list of "cheap-yet-amazing places to live."
On the bright side, Oregon residents don't pay any sales tax. The price you see on that tag is exactly what you pay. No matter what you buy: it can be something as cheap as gum, and something as expensive as a fancy appliance for your new home, a new car even. One thing is for sure; you won't get hit with a hefty sales tax bill.
Employment
You'll need to sustain yourself in Oregon. If you are moving with a job in hand, congratulations are in order. Otherwise, you'll need to find employment before you deplete your savings. You can start your job search here.
Due to its diverse waterways and landscapes, Oregon's economy largely relies on various forms of agriculture, fishing, and hydroelectric power. If you are a hazelnuts' lover, now, you can not only enjoy them but also grow them and get paid for it. Oregon is one of four major world hazelnut growing regions and produces 95% of the domestic hazelnuts in the US. The state is also the top timber producer. Techies shouldn't have trouble scoring a job either. Technology is another one of state's major economic forces, thanks to the Silicon Forest.
The Greenest State
Oregon is a state with one of the lowest carbon footprints and more Leadership in Energy and Environmental Design-certified "green building" per capita than any other state in the country. It consistently ranks among the most environmentally-friendly states. And Portland has been ranked among the greenest cities in the world! Oregon is also tops in recycling, energy-efficiency rates, and producing renewable energy.
And water! Some say the tap water in Oregon is the best tasting tap water in the world. Fresh mountain water!
The Nature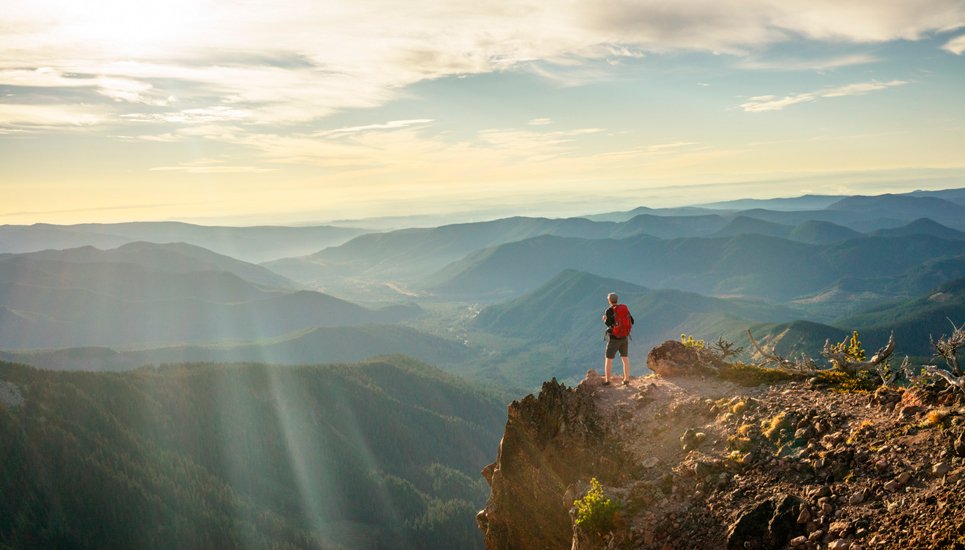 Oregon is one of the most diverse states in the US when it gets to nature. It boasts itself as having its own seven wonders. While you won't find any pyramids in the state, the natural sights are divine. The incredibly diverse terrain is marked by volcanoes, abundant bodies of water, evergreen forests, high deserts, and shrublands. The state is also home to the single largest organism in the world, Armillaria Ostoyae, a fungus that runs beneath 8.9 km2 of the Malheur National Forest. How is that for a natural wonder?
You can visit the Painted Hills and climb the snow-capped Mount Hood. Go horseback riding in the Wallowas, or do a cannonball into Crater Lake.
The Oregon coastline offers about 363 miles of unforgettable Pacific scenery. Sandy beaches, rugged cliffs, and all the forestry in between give the coast of Oregon an almost magical aura, turning it into one extraordinary corner of our home planet Earth. You can take a road trip down the Highway 101, which takes you down the entire coastline: from Columbia River to the southern tip of the California border. We highly recommend whale-watching on the Oregon coast. Some say it's quite an addictive activity. With all its wonders, you probably will never ever want to leave Oregon.
Wine and the Beer Land
There is much more to Oregon than its breathtaking views. The state's lush climate makes for great grape growth. Oregon has more than 450 wineries with the largest concentration of the latter in the Willamette Valley whose grape cultivating conditions mimic those of the Burgundy region in France. After all, you may not even have to leave the North American continent to indulge in the finest of wines.
And hops! How do you like your hops? No matter where you are in Oregon, the state can satisfy even the most acquired taste when it gets to craft beers. You'll find exactly what you're looking for. And Portland has more breweries than any city in the world.
If you like to drink your beer surrounded by people in their Trachtens or maybe even wear a piece of traditional Bavarian clothing yourself, you wouldn't want to miss Mount Angels' Oktoberfest. It is one of the biggest beer-filled celebrations in the state, bringing people from all over the region to go hops wild.
Also, when you buy a bottle, a portion of the liquor and wine tax in Oregon goes to helping those with mental health issues. Wine or beer tasting paired with a good cause? It can't get any better than that, can it?
Crab lovers rejoice!
Although you can enjoy fresh crab in Oregon pretty much all year round, the real deal begins in winter. Dungeness crab season kicks off about a week after Thanksgiving and is a big time for both fisherman and crab lovers. You'll be able to stack your holiday table with fresh-cracked crab legs and scrumptious fried cakes, or any other delicious plate your crab-loving soul can come up with. Yum.
Biking heaven
If you are a fan of biking, Oregon is the place for you. There you will find innovative bike paths, programs, communities, and clubs, as well as a wide gamut of events that encourage you to use the two wheels. It's the only state in the nation that offers Scenic Bikeways program. Whether you are a newbie or a seasoned cyclist, you are guaranteed the experience of your life. Each route has been carefully planned and tested by the locals, so you know you'll be getting the crème-de-la crème of biking experience.
Shipping your car to Oregon Tips
Although it's quite easy to navigate bigger communities in Oregon, moving around the state itself can be tough due to drastic changes in terrain and lack of population. Therefore, if you are moving to Oregon and also taking your car with you, you may want to consider hiring a professional auto transport company. It would be wise to let someone who moves cars for a living take care of the task.
Learn how car shipping cost is calculated, and you'll see that the service is well worth the money. You could even see it as an investment in your peace of mind. While professionals will be moving your four-wheeler, you can focus on the rest of the moving tasks. Do some research, ask around, and listen to your gut. Learn about how the industry functions to avoid any future misunderstandings.
It's important that you understand how auto transport works; therefore, ask questions; make sure the process is clear to you.
When in Oregon…
Before you get on the road in The Beaver State, make sure to go over Oregon's rules of the road. Also, once you become a state's resident, you will have 30 days to get an Oregon driver license and title and register your vehicle.
Some say, once you settle in Oregon, most likely you will never want to pack your wagon ever again. Oregonians have a reputation for being a happy bunch, who agree to the philosophy of "live and let live." You'll enjoy nature at its finest right in your own backyard. And as an extra perk, you'll get to stay in your toasty-warm car in winter when refilling your tank. Because Oregon is one of the only two states in the US where you can't pump your own gas. Happy moving!
Save
Save
Save
Save