Is buying a car online a good idea?
When all is said and done, we know there are obvious benefits to going the online route. First thing is that you will have more control and easier time comparing. Dealers will have a harder time tricking you into paying more. You will have a larger pool of vehicles from which to choose. And you have the freedom to go outside your local area.
Having a choice is always a good thing. In a certain way, this affects competition throughout the country. With the rise of online car buying, people and businesses both have to adapt and try and make the best out of what is to come.
Who is buying cars online?
Millions of people buy cars online. From the everyday Joe, to collectors and businesses from around the globe. What would constitute such a purchase though? Does the entire process have to be conducted online? Does it count if you go and see the vehicle in person? What if you are just ordering a new car from the manufacturer or an authorized dealer?
Clearly, these are very distinct scenarios. Are there websites where you can buy a car online? Yes, there are plenty of reputable websites. And in our years of experience shipping cars, we can confirm that online purchases happen daily.
The three major markets – new, used and classics cars
Depending on the situation, buying a car online will be somewhat different. If you are on the look for a new vehicle, the process is often simpler than buying a classic. Trying to find a used car online may also be a great option. That is because you will have a larger pool from which to pick. On the other hand, there are some pitfalls to look for.
You may also be wondering whether or not the internet is a good place for buying a classic automobile. Are there authorized auctions for such things? Considering the investment, is it not better to be there in person? Or maybe the deals online are better, with a larger pool once again? To better answer these questions we will look at the situations separately.
Buying a new car online
The majority of people consider this to be the easiest case. You avoid in-person haggling at the dealerships. You can check the price in real time. And you can compare multiple dealerships across the country – all at the same time. However, there is a caveat.
You need to research before you begin the process of buying a car online. A good piece of advice is to go and check out the vehicle of your choice in person at a local dealership. To put it bluntly, online videos can sometimes be deceiving. You may miss important details that may sway you in a given direction. And since a car is not a small investment, you should know exactly what you buy before the purchase.
After you have seen the car and checked a couple of dealerships near you, it does not mean you have to buy it there. You can purchase it online. Since you now know the car, you can buy it from across the country. Many good deals are available online from out of state. Sometimes you may get a lower price by a few thousand dollars. This kind of a discount will put money in your pocket and cover your shipping costs.
Buying a used car online
With used cars the situation is a bit different. It is not a new vehicle, so you don't know if anything is wrong with it. If you don't drive it and check it personally you can not be sure. You can go and check out a new car, then expect to buy the same thing wherever you go. This is not the case with used vehicles. The best tip for getting your used car online is to research and consider certified vehicles. Know its weak spots and common points of failures.
It is good to understand how to check such things. This will save you any troubles down the line. Or you can also hire a certified company to go and check the car for you. Such companies exist and their services are available to book online. They will test drive the vehicle for you and provide you with a report. Once you are set and buy your vehicle online, all you need is to ship it.
If you are buying from an auto dealership you need to let the shipping company know. The carrier needs to know in advance and discuss the pick-up time, which usually has to be within the operating hours of the auto dealership. The same applies when buying from a private seller out of state.
You will have to discuss the shipping operation with him and make sure he is ready to cooperate. The carrier will coordinate the pick-up day and time in advance and try to accommodate the seller's schedule. Still, pick-up time frame is from one to few days so flexibility is important.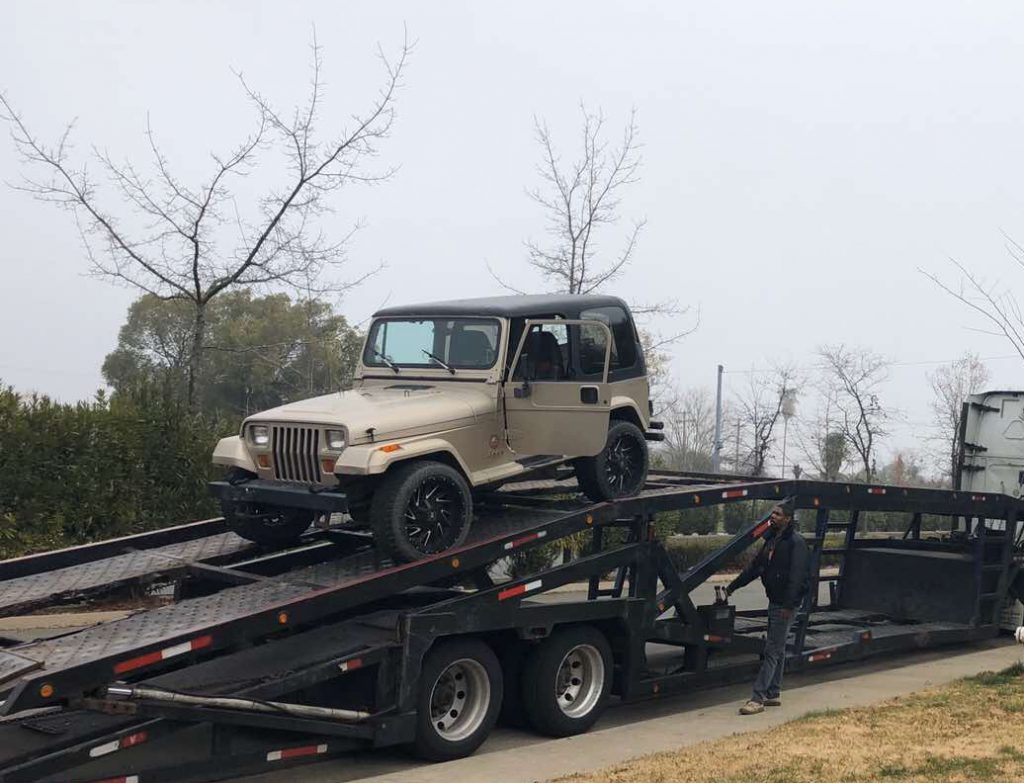 Buying a classic vehicle online
Buying a classic car often happens online. This is where you will find all good deals by private sellers. The other two places for classic automobiles are at auctions and in specialized dealerships.
Well preserved and maintained classic automobiles, of high value, are often sold at auctions. These creatures you find at auctions though cost money, but if you are in the market for a really valuable classic, go ahead and visit some auctions such as Barrett-Jackson. You will certainly find gems worth your time and money.
If you are not ready for this type of investment yet, then you can research classic car dealerships online. At such dealers, you can find a variety of classic vehicles and also negotiate the price a bit. They are responsible for getting the car in the best condition possible. Any problems for each particular vehicle have to be listed in details. Corsia Logistics works with several classic car dealerships from across the country.
All in all, buying a classic car online is not as risky as people think. Of course, it is always easier to buy it from a place near you. But you have one more option here – search online, find a private seller. Many car collectors have their own websites or advertise their vehicles online on various websites. Hemmings and BaT are such platforms. You can also check forums for the desired automobile and Craigslist. Deals could be anywhere online. So, everything starts with good research.
Request your online car shipping quote now
CORSIA is 5-star rated car shipping company.

We quote current market prices to ship a car now.
Corsia rep (Elena) was very proactive. Helped ship a car from CA to GA. She checked in with me via email quote and several phone calls to find me the best possible quote for the fastest available service. After several communications, Corsia was able to schedule a vehicle pickup the next day. The driver communicated well, and the vehicle arrived in final destination faster than we expected in perfect condition. I highly recommend using Corsia's reliable, efficient service.
Thanks, Corsia! Pickup was so clean, efficient, and wonderful -- my only recommendation is to make sure you schedule it during the day so you can fully review the car in the daylight. Drop off was equally wonderful, and the whole trip went down without a hitch (pun intended!). Seriously, Corsia delivered my Jeep from CT to California with no issues or bumps in the road!
High five's all around! Corsia was highly recommended by a friend in the automobile industry. We needed to transport a cargo van from Seattle to Florida. We contacted Corsia who quickly arranged transport within just a few days. Communication was outstanding! Just a few email confirmations and we were all set. Mike was great and arrived right on time and delivered to Florida on schedule. Tip-avoid the hornets nest of auto brokers on line and just contact Corsia for a truly great experience!
Corsia Memphis to LA, mid-size SUV. I looked at 4 different companies amd Corsia was the most responsive of them. While being responsive, they were not unduly aggressive: when I indicated that I need to wait a month before making a decision they stopped contacting me and only came back with a reminder when I really needed it. Once I decided to engage Corsia they found me a transport within two days and the car was delivered (from Memphis to LA) in another two days. I had a truly positive experience.
Working with Corsia Logistics was a great experience. Working with Corsia Logistics was wonderful. They were able to find a driver right away to transport our car. They were in constant communication as to when the car was getting picked up and dropped off. The driver also communicated with me as to when he would arrive. I would highly recommend Corsia Logistics.
Excellent Organization Corsia was an excellent company to work with while I transferred my car across the US. A friend of mine suggested I use them as they had been very organized and trustworthy with her own car. I researched a few different place but decided to go with Corsia and I'm so glad I did! Any questions I had throughout the process they answered quickly and clearly. I would definitely use them again in the future and recommend them for others to use.
Looking for a logistics company, to ship my car, from California to Illinois,my first search, then Corsia showed up, skeptical. Call and a very friendly secretary: Elena. She guided me through, I scheduled and as she explained, all when smooth as scheduled Very happy I did the right choice. I'll recommend this great Company to anyone that is thinking to relocate a vehicle. Thanks Corsia logistics for your honesty and professionalism!
Top notch Transport - Porsche 997 Top notch! As easy and efficient as one could possibly imagine. Great customer service.. thank you Luke. Great prices. Check. Timely communications. Check. Clean transport trailer. Check. Supremely careful driver. Check. Timely arrival. Check. Don't mess around elsewhere, just call Corsica and feel confident your transports needs are going to be exceeded. My Porsche 911 rode like a Queen in her enclosed chariot. I've never needed a transport company before, and I surely will use them every time. Do yourself a favor, seriously. Call now.
Corsia has been amazing. Their prices are really competitive but more importantly their customer service has been 5-Star. Elena followed up with me every step of the way, making sure there was no miscommunication between me & the driver. We are using them to ship a 2nd vehicle & would not hesitate to use them again!
I have recently used Corsia for long time family car with sentimental value that was moved I have recently used Corsia for shipment of my vehicle from Oregon to Arizona by recommendation from other family member who also used Corsia in the past. I am very pleased on the service and the communication throughout shipment. Ken was my direct contact and kept me informed along the move The car was picked up and delivered as communicated. I did use a enclosed mover and the driver was also clean cut professional and treated car as his own. I would definitely recommend Corsia again with the experience I have had. Thank you. T
How long does it take to ship a car bought online?
Shipping a car could take from 2 to 32 days. Various factors could affect the shipping times and this means that shipping time is always an estimate. Open auto transport is usually faster and cheaper due to high availability.
What services does CORSIA offer?
When shipping a car you bought online you choose from following car shipping services

by carrier type: open and enclosed trailer
by time frame: standard and expedited delivery
Choosing a carrier type really depends on the type of vehicle you need to ship. Standard everyday sedans, such as your Honda Civic or Toyota Corolla usually go on an open-air trailer. If you need to ship a high-end sports or luxury automobile, or any classic vehicle you should choose enclosed trailer.
Standard car shipping means that a carrier will pick up your vehicle within few days. Expedited delivery could guarantee that your car is picked up or delivered on or by a specified date and time.
Open auto transport is the standard solution. It is faster and cheaper. Open carriers are readily available and this makes them efficient and preferred by private customers and businesses alike.
Enclosed auto transport is a preferred solution for sports and high-end automobiles. It offers complete protection from weather and road elements. However, it could take a bit longer to book and schedule. It is more expensive as well.
What documents do I need when shipping a car?
Domestic transport is simple. You only need to sign your shipping contract and accept Terms and Conditions, which is usually done online.
At delivery, you will also be required to sign a Bill of Lading (BOL) which also serves as an inspection report.
Is my vehicle insured during transport?
While in transit on a vessel there is limited liability in effect. The policy will cover any damages sustained during transport, not to exceed the market value of your vehicle.
As for ground transportation, by law, every car carrier in operation must have cargo insurance. A car carrier cannot operate without an active insurance policy.
For all auto transport related questions talk to us now.
Our dedicated team of professional logistics experts will answer all of your questions and help you choose the best solution.