Making the decision to move from Washington DC to Texas might not be easy since both places are full of history, opportunities, and culture that sticks, but if you decide we are here to help!
The road trip, when moving from Washington D.C. to Texas, is actually a showcase of the whole East Coast. The distance between D.C. and Houston is approximately 1413 miles. This is nearly 24 hours behind the wheel, if you do decide to drive. You can split them into four or five days with some sightseeing along the way.
If you do make a road trip out of your moving stop by:
Charlottesville
Blacksburg (Virginia)
Asheville
Chattanooga
Birmingham (Alabama)
Of course, the whole road is surrounded by places worth seeing. Stop by and check out:
Big Thicket National Preserve
Pearl River Wildlife Management Area
De Soto National Forest
Little River Canyon National Preserve
Rock City Gardens
Great Smoky Mountain National Park
Good Bye Washington D.C.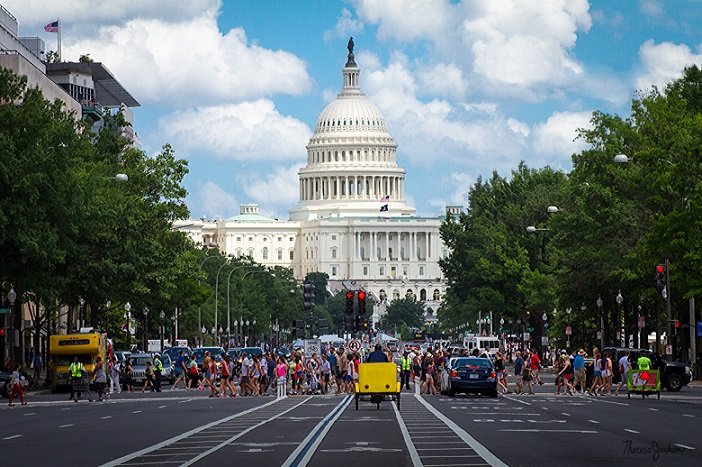 Washington D.C. or the Federal District of Columbia is the seat of the US capital. As a federal district, Washington is directly under the jurisdiction of the federal government. It was originally organized under the Residency Act of 1790 to provide permanent seats to state capitals.
D.C. has nearly 690,000 residents. Its location on the Potomac River was handpicked by George Washington himself. In 1812, British soldiers burned the city. This delayed construction until 1868.
The largest employer in the District of Columbia is understandably the US Government. The other big employers are the District of Columbia, Fairfax County Public Schools, Montgomery County Public Schools, and Prince George's County Public Schools.
But Washington D.C. is not just administrative buildings. The metro area is home to the headquarters of 16 Fortune 500 companies. The district itself houses Fannie Mae, Danaher Corp, and The Carlyle Group.
There are 1,500 miles of streets, parkways, and avenues in the district. Due to the freeway revolts of the 1960s, much of the proposed interstate highway system through the middle of Washington was never built. Interstate 95 (I-95), the nation's major east coast highway, therefore bends around the district to form the eastern portion of the Capital Beltway.
A portion of the proposed highway funding was directed to the region's public transportation infrastructure instead. The interstate highways that continue into Washington, including I-66 and I-395, both terminate shortly after entering the city.
Education
D.C. is home to several educational gems, including Georgetown University, founded in 1789. Along with George Washington University (second-oldest, 1821), American University, and Howard University, it is the largest in the entire region.
There are also subject-specific institutions with very limited enrollment in Washington, D.C., such as the Dominican Institute's Institute of the Immaculate Conception, the Catholic University of America's Pontifical John Paul II Institute for Marriage and Family Studies, and the International Catholic University. – U.S. National Defense Academy.
Free time and Sports
Washington D.C. has a lot of free time entertainment to offer. Sports and historical attractions are its strong points.
The Washington Wizards, Nationals, Capitals, Commanders, and DC United all play in their respective major leagues, and they all do well. DC Defenders is part of XFL.
Sightseeing
Washington, D.C. It was designed to be the nation's capital during turbulent times, with a landmark on every corner. Must see attractions include:
Newseum
Smithsonian Castle
National Museum of the American Indian
International Spy Museum
Folger Shakespeare Library
Washington National Cathedral
If you enjoy a quick escape to nature then head to:
Kenilworth Gardens
Constitution Gardens
United States Botanic Garden
Martin Luther King, Jr. is one of four non-presidents honored on the Mall
You may already know that Martin Luther King Jr. gave his famous "I have a dream" speech in front of the Lincoln Memorial. But maybe you don't know these unique details about his own monument. The sculptor behind the statue at the Martin Luther King Jr. Memorial is Chinese artist Lei Yixin Master. He casts 80 percent of the production in China, then ships it to the U.S. and the rest to Washington, D.C.
The memorial is one of four memorials on the National Mall of non-presidents. The three other soldiers to receive the honor are little-known founding father George Mason, engineer and warship designer John Ericsson, and American Revolutionary War captain John Paul Jones.
Disadvantages of living in Washington D.C.
Washington D.C. has many advantages and some major disadvantages, but are they enough to provoke moving to Texas?
Exceptionally high cost of living
The gap between rich and poor is also huge
Sometimes heavy traffic, which is also driven by tourists
The weather is changeable, but summers can be very wet
The job market has high salaries, but also high demands
Hello Texas!
Texas is the real southern beast. Its economic strength and diverse industries drive its development constantly.
The state's population is about 29 million. Texas is second only to California in the United States. The capital city is Austin, while Houston is the largest city with a population of over 2 million. The largest metropolitan area is the Dallas-Fort Worth metropolitan area (which includes cities such as Dallas, Fort Worth, and Arlington, with a population of about 8 million).
Thanks to its diverse natural landscapes, world-class universities, sheer size, and population, Texas has a very diverse economy. Resource, oil, and farming are in the industrial heart of Texas, going strong even today. They are complemented by new entrants like aerospace, IT, energy, retail, and banking.
Texas' economy is led by Fortune 500 companies such as McKesson, ExxonMobil, AT&T, Dell Technologies, and Phillips 66. Foxconn Assembly LLC, Houston, Texas, Pizza Hut, and Keller Williams Realty are the state's largest employers with hundreds of thousands of employees.
On a global level, Texas has one of the strongest economies with a GDP of $2 trillion and a GDP per capita of $60,922. The unemployment rate is about 8.0%.
Tourism is also booming in Texas and has some excellent beaches such as Boca Chica, Padre Island National Seashore, South Padre Island, Mustang Island, and​ Rockport Beach.
Education
There are 38 universities in Texas, 34 of which are in one of six state university systems. All of these offer an excellent education, but if you strive for the best, look no further than the University of Texas at Austin, Texas A&M University, Texas Tech University, and the University of Houston. But don't overlook UT San Antonio and Texas State University.
Free time
Would you like to spend time in a nature park? Texas has it all—deserts, mountains, rivers, beaches, alligator swamps, lakes, cliffs, and everything your heart desires. Each is worth exploring. Be sure to check out Big Bend Ranch State Park, Colorado Bend State Park, Pedernales Falls State Park, Caddo Lake State Park, and Caprock Canyons State Park.
Green Space
Houston ranks first among U.S. cities with more than 1 million residents in total parking space. Of the 50 largest parks in U.S. cities, the City of Houston includes four: Cullen Park (#12) at 9,270 acres, George Bush Park (#16) at 8,043 acres, Lake Houston Wilderness Park (#25) at 4,787 acres, And Bear Creek Pioneers Park (#48), 3,067 acres.
According to Golflink.com, there are 198 golf courses within a 50-mile radius of downtown Houston. The City of Houston offers a 300-mile network of interconnected bike paths spanning 500 square miles. The network includes bike lanes, bike lanes, signposted shared lanes, and shared lanes.
Located on two of the four major bird and butterfly routes in North America, Houston has a rich bird life. For 14 years, the Houston Audubon Society has counted more than 400 bird species in the Houston area.
Disadvantages of living in Texas
Here are yet more major differences between Washington DC and Texas, but are they worth the moving?
High temperatures, severe weather, and hurricanes
Large cities are suffering from hyper urbanization and its various consequences, such as traffic, pollution, and long commutes.
However, other regions are quite underdeveloped and have the opposite problem – they have significantly lower incomes, much slower internet speeds, poor grids, and even poor accessibility.
Another significant downside is high property taxes. This is the downside of the lack of income tax.
Texas is the 45th of the 51 states with the highest property taxes in the United States (including the District of Columbia).
How to register your car in Texas
If you want to register your car in The Lone Star State, then you need to do the following:
– Has your vehicle been inspected at a certified inspection station?
– Also, Texas requires state-registered vehicles to pass an annual inspection to ensure compliance with safety standards. Learn about the Vehicle Inspection Program on the Texas Department of Public Safety website.
– Find an inspection station.
– Show insurance coverage for the required minimums per person, per accident, and for property damage.
– Get your vehicle registration and sticker at your local county Tax Assessor-Collector office.
You can renew it online, in person, by the Texas Mobile App, by mail, and – in some counties, at a subcontractor, such as a participating grocery store (check if this is applicable at your location).
Once the moving date is set then you need to think about and organize shipping your car from Washington D.C. to Texas. Check our guide and request a price quote for your records.
D.C. and Houston head to head
Washington DC offers some major advantages, should you really consider moving all the way to Texas?
Houston is far more populous than DC (2 mil. compared to about 700k). However, due to the high standard in the Federal District. DC has a considerably larger median income ($69k against about $45 thousand). However, Houston has way cheaper housing, better commute time, cheaper groceries, utilities, and transportation. Washington DC is a lucrative destination with ample opportunities, but all these facts make moving to Texas an idea worth considering.