Is there a car you have always wanted but couldn't afford? Kit cars may be your solution! They can help you turn your seemingly impossible dream into a reality. Moreover, they come with added value: the satisfaction of personally building the car of your dreams!
What are kit cars?
Jump back to your childhood with a memory of assembling your favorite toy car. You know how it is supposed to look, and you have all the pieces in front of you. You just need to put them together.
Now that you have that idea, building a kit car has pretty much the same concept. Except that this time, it's a real-size driveable vehicle. You need to get the spare parts, engine and transmission. Add to that an available donor vehicle, and you are set. The only thing left? Put the pieces together into your own unique vehicle.
How long have kit cars been around?
Kit cars seem like products from recent years. Yet, their history dates back to the 19th century. The fist kit car was designed in 1896 by the Englishman Thomas Hyler – White. He published his design in The English Mechanic magazine. Later in 1912, the first claimed-kit vehicle, the Lad's Car, was available for sale.
With time spare parts got improved and chassis were built to reassemble old vehicles. A new development played a huge role here: fiberglass, which made the production of these parts cheaper. Some parts manufacturers used this novelty to their advantage. In the UK, for instance, to avoid the purchase tax, many of the partially assembled vehicles were sold as kit cars.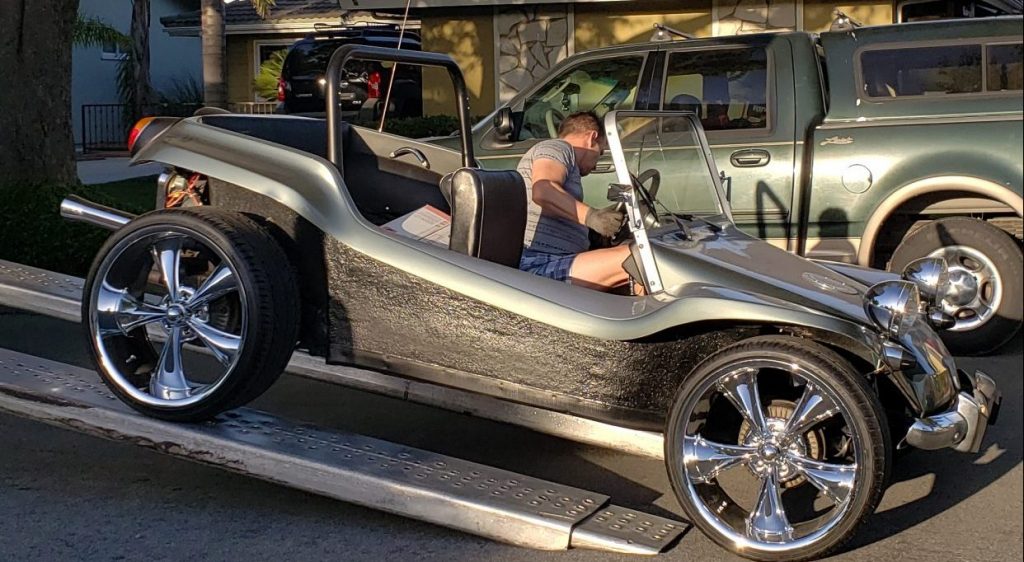 Meyer Manx Dune Buggy delivered safely by Corsia LogisticsIn a very short while kit cars gained popularity as a base for sports cars. One of the most popular platforms to build around was the VW Beetle chassis, as parts were easily bolted to it. The Meyers Manx dune buggy serves as a great example. It is a special component vehicle that has become a huge part of car culture throughout the US.
Then came the replica wave. In the early '60s, companies like FiberFab were building Ford GT40 replicas using the same VW Bettle chassis. Many of today's Lamborghini and Ferrari replicas are assembled on top of the late '80s Pontiac Fiero chassis. Other examples of replicas include '65 Cobra or '32 Ford Roadster.
What do you need to build a kit car?
Building your own car sounds exciting, right? However, before jumping into all the fun, there are some things you need to prepare in advance.
Firstly, you need to make sure you have enough space to assemble the car. Your front yard may not be the best venue option, but a garage or even a barn can work.
Secondly, you will need enough shelves to organize all the parts or tools needed. As for tools, there are some useful kit car online forums, which canguide you through the process and advise you on the tools required.
Lastly, you will need time, patience, and persistence to successfully complete the project.
How long does it take to build a kit car?
Some kit cars are simpler to assemble than others. A lot also depends on how handy you are. Seasoned mechanics may be able to complete a project within a couple of weekends, while a novice will need much more time to learn the ropes of car building. There will be many issues or errors along the way. You need to address them all and be patient throughout the process. Consulting online sources or watching YouTube tutorials can be quite helpful in this case.
If we have to put a number to it, building a kit car takes roughly between 1,500 and 5,000 hours depending on the complexity. Some projects may take years to complete, though you will not stumble into those by accident..
How much does it cost to build a kit car?
The cost of a kit car varies depending on the necessary components. It can both be relatively inexpensive or a huge investment. On average, a kit would cost you about $12,000. However, you may also need to consider a few additions such as the electrical system, engine, cooling system, suspension, braking system, and interior accessories among others. Not to mention, if you don't have a donor vehicle, you will need to invest in one.
Depending on the components you choose, the total cost of the kit car can easily rise to $35,000. And if you really have a couple hundred thousand dollars to spare, you can get some premium kits to play with. With that said, if you want to see a truly unique kit, check out our article on the Mini Peterbilt – a mini big rig!
Are kit cars street legal?
Kit cars are not street legal by default. So if you plan on taking your newly-build creation for an occasional ride around the neighborhood, make sure to first register and quality-certify your vehicle. You will need to provide information about the tax value of your car and document its emission levels. The exact rules will vary depending on your state.
What are some famous kit car models?
Tornado TSC GT40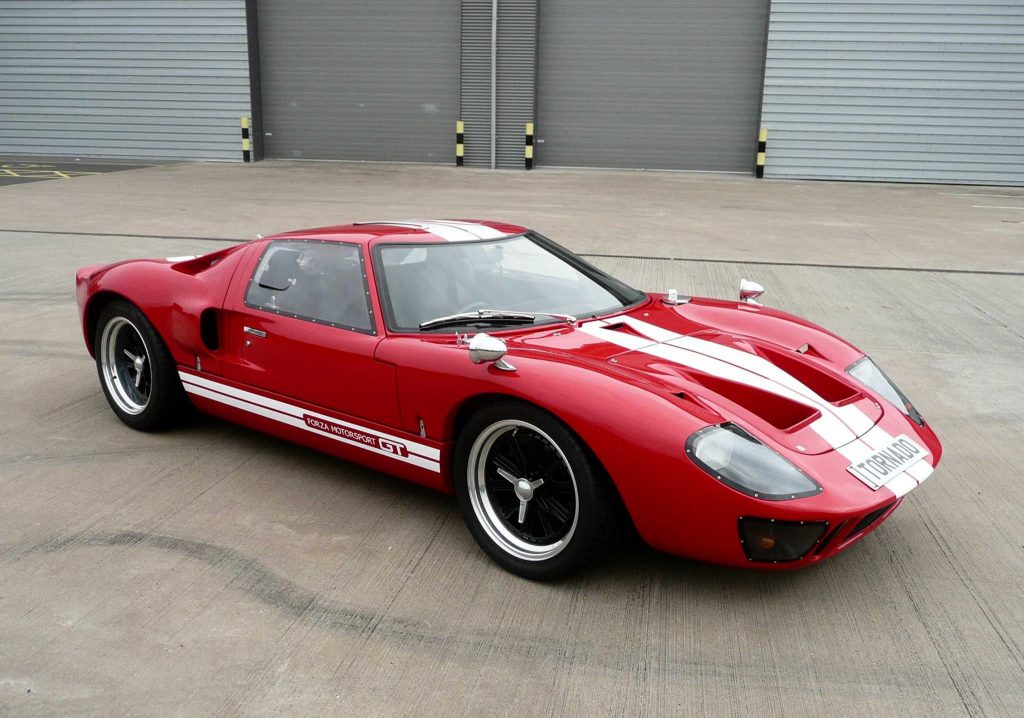 This model is a replica of the Tornado Ford GT40 MK1, one of the best sports cars of the 20th century. It comes available as a DIY option, or it can be partially assembled upon request. Each part of the kit comes with a prior quality check. And you also receive a detailed manual.
The cool thing? You do not have to go part hunting. Tornado Sports Cars have a shop for necessary components if you ever need them. The kit also comes with a 12-month guarantee and requires an investment of around $11,000.
Ultima GTR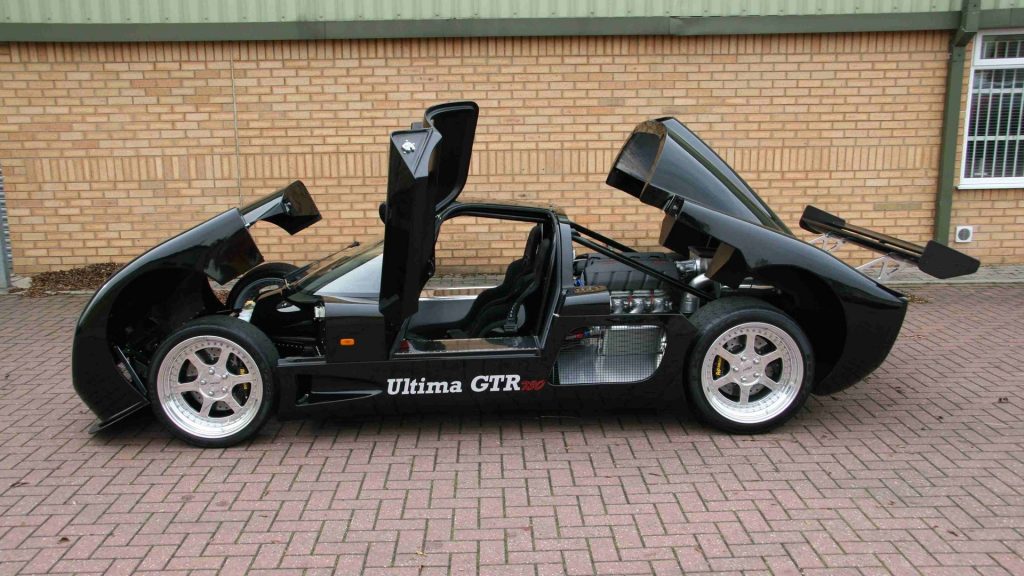 This is an interesting British brand, which has successfully been assembled as a kit car, scoring 0-60 mph in 2.6 seconds. It's a rear-wheel-drive coupe that does not require advanced auto knowledge to be built. You can get it for about $57,000.
The whole kit lends itself to a lot of experiment as well. There have been different combinations of parts such as a Chevy V8 engine with Porsche transaxle, for example. If you're looking for something different, this might be your thing.
How to ship your kit car?
At some point, you may need to ship your kit car. In such a case it is important to get reliable auto transport, so you can check out our article on how to find a car shipping company. After spending so many hours building your piece of art, you would not want to rush with your shipping choices without proper research.
Corsia Logistics has been successfully transporting vehicles, including kit cars, across the US for a long time. We have taken care of Fiat-Trivette and 1964 Meyers-Manx dune buggy, among others, ensuring they arrive safe and sound.
Our seasoned vehicle relocation experts will be happy to offer a customized shipping solution for your particular situation. If you have any questions or would like to request a quote, do not hesitate to get in touch with us. You can call us at (818) 850-5258, chat with one of our logistics experts, or fill out our simple quote request form.