U.S. citizens will have to request online authorization and pay a fee from 2021 onward.
Traveling by car while overseas is surely the most convenient way to visit all the places you want. Europe is thickly settled, so sightseeing is easy!
Not surprisingly, many Americans choose shipping their car with them. In case you are one of them, review our guide  about driving in Europe with U.S. plates.
Import your vehicle in Europe temporarily
Each EU country has similar regulations for temporary vehicle import.  There will be a standard customs form at the point of export, depending on the country you are shipping the car to, where you will fill in your personal data and dates.
As long as the vehicle is legal in the US – taxes paid, safety inspections, and insurance – you will have no problem. Insurance is the only extra you need to discuss with your insurance company – make sure you list all the countries you will be visiting and your agent will explain what you need and what is the cost.
How long can you stay in Europe?
Your car can remain in the EU under the temporary admission procedure for up to 6 months. The same goes for buggies and ATVs. If you are bringing a boat, however, you can keep it there for a total of 18 months.
Keep in mind that moving the boat around could be harder, so we recommend taking your car and renting a boat instead. Keep in mind that you cannot leave the vehicle on the EU territory without you by its side. If you decide to go for a short trip to a country that's not in the EU, you will have to take your vehicle with you.
If you are a student you will be luckier since students or individuals from non-EU countries conducting professional duties in Europe can use their vehicle until the end of their stay without paying any duty or taxes. This is one of the exceptions to the 6-month period.
What about Customs & Fees?
When you import a vehicle for up to six months, you do not need to pay import duty. If you , however, stay for more than six months you will most likely need to pay import duty on the car. 
If you do decide to stay more than six months, one way to avoid paying import duty is to leave the EU and go to a non EU country for a a few days at least, and then drive back to any EU country. 
If you transport your vehicle to Europe by water you may not need to fill in a customs declaration. Keep in mind, however, that even though the European Union might look a lot like the U.S.A., it is not. Each country, and often each port, have specific requirements for customs clearance and import of vehicles with their own fees.
Calling the U.S. embassy of your first contact European country is always a good starting point for details on importing and driving in the EU. The embassy will provide you with the current tax rates for auto imports as well as the most recent changes to the laws on that topic.
To sum it up – you can keep your vehicle and its plates without paying any tax fees while you are in the EU as long as you:
– use it for your own private use
– are not registered as an EU resident
– do not sell, lend or hire it within the EU
– export it from the EU within 6 months
Do you need a special Driver's Permit in Europe?
You need to acquire an International Drivers Permit to drive legally in Europe.

An International Drivers Permit (IDP) is basically a translation of your existing driver's license into different languages. It provides some basic identifying information like your photo, address, and legal name and translates your license into ten different languages. In order for it to be valid, you need to use it in conjunction with your valid United States license.
You can obtain an IDP while you are still in the USA either at American Automobile Association (AAA) offices or from the American Automobile Touring Alliance (AATA).
When it comes to driving in each country you should also be aware that some rules and laws will vary.
What is the difference between US & EU plates?
Throughout the world, the majority of governments require license plates on the front and back of automobiles. In the United States, the number of license plates required (either one or two) varies from state to state.
There is a standard for vehicle plates in the European Union. It starts with a blue section on the extreme left with the EU circle of stars and the country code. Then follows the area code along with random numbers and letters. Different countries have further specifics regarding the license plates of army vehicles, diplomats' cars, or other specialized vehicles.
How to ship your car to Europe?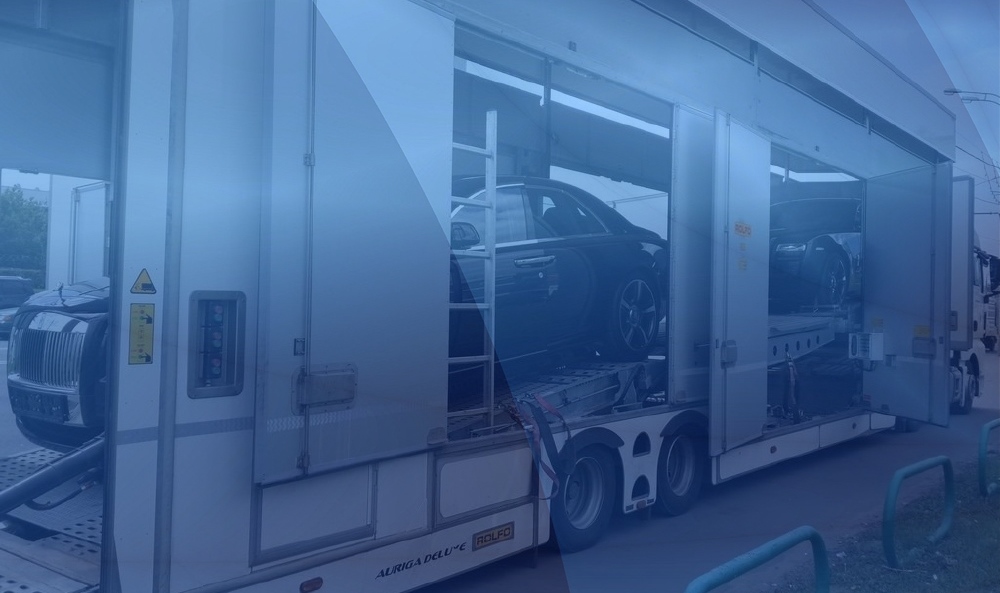 You can start preparing your vehicle for shipping a couple of months prior to your departure date. The time it will take to ship a car will vary based on several factors. Hence, to make it fit your schedule, you should allow adequate time. Keep in mind that the earlier you start talking to a car shipping company the better.
International auto transport is not a complicated process but it's not as fun as sipping wine in Italy either. Moving a car overseas can be more complicated than a simple domestic move, thus, it is important to be well prepared before settling on a service and a company.
There are little things that you need to know in order to feel calm during the process. This is why you need a partner you can rely on from booking to delivery. Always check the background of the auto transport company you select and the partners they work with overseas.
At Corsia Logistics, we work with high safety ranked international carriers to make the process easy and secure.
Once you select your logistics partner, pay special attention to preparing the documents you need. You will need two sets of documents – one related to the information about your vehicle, and another one you will receive from the shipping company.
What type of transport to choose?
Given the fast time frame and its undeniable safety, air freight is the most expensive international shipping method. This method is suitable for high-end automobiles, or vehicles that must be delivered on or by a specific date. It is usually used for race cars and cars going to auctions or exhibitions. When compared to ground transport, shipping by plane equates to choosing enclosed car transport on the ground. This usually means full protection and speedy delivery.
Most customers prefer transporting their cars via 20 or 40 feet containers. A container can be either shared or full, which also contributes to the price you will get.
The least costly method to get your car to Europe is via Roll-on-roll-off (RORO) shipping.
This, however, is a bit more scary to most people because the car is on a vessel for a long period of time. This is a good method for shipping heavy machinery, RVs, and oversized vehicles.
Be aware that the type of transport is not the only factor for getting a good price. Apart from that, the cost to ship a car internationally depends on the exact pick-up and delivery locations, the countries and ports with all their custom and import requirements, the vehicle's make, model, modifications and condition.