Whether you are looking to buy or sell a car, you will find hundreds of websites that instantly connect buyers and sellers.
Choosing can be tiresome and confusing. Therefore, we decided to shed some light and give you a few great options for sites that make the process easier.
In this post, we have listed 7 best sites for online car buying and selling. We have also included some practical tips on how to ship a car you bought or sold online.
Buying and selling cars online
Craigslist
With over 20 years in existence, Craigslist is a long-standing veteran in the world of online car buying and selling.
Unlike other online platforms, Craigslist is a local marketplace intended for face-to-face transactions between buyers and sellers. Hence, there will be no customer reviews, required registration, or transaction guarantees.
What should I look for when buying a car from Craigslist? 
You might be thinking that Craigslist is where scams and suspicious schemes thrive. But that is not generally the case. If you have never sold or bought a car online, Craigslist may be a good place to start. Many individuals, as well as businesses, utilize this site.
Request vehicle maintenance records if possible and complete a third-party inspection before you make the payment. Invest some time in research and learn all you need to do before selling or buying a car on Craigslist.
eBay Motors
eBay, just like Craigslist, is another veteran among online car buying and selling sites. But unlike Craigslist, eBay is not only focused on local vehicle search, but also allows you to buy/sell vehicles nationwide.
The site also offers buyer protection and secure payment methods and gives you access to seller ratings.
What are the fees for purchasing and selling on eBay Motors?
There are no additional fees for creating an account and completing a transaction as a buyer. However, if you are planning to register as a seller you will have some fees.
They will depend on your status as a low-volume- or high-volume seller. The fee amount will also depend on the type of vehicle listed and the eBay listing tool you select.
You can easily find the detailed fee schedule on the eBay site.
CarGurus
This is one of the most visited online car marketplaces in the US. It has been around since 2006. You can find a host of listings on CarGurus, including used, new, and certified pre-owned vehicles.
The listings are ranked based on the seller's reputation and the market value of any particular car at any time. The site's best-known feature is the CarGurus Instant Market Value (IMV).
You can use the site to list for free, but once your car is sold, you will have to pay a fee of $99.
Can I negotiate the price of a car with CarGurus?
CarGurus does not own the inventory, it only lists vehicles. Any final negotiations will be done directly with the seller, often a dealership. Once a buyer expresses interest in any particular vehicle, their information will be submitted to the seller, who will then follow up with you.
AutoTrader
AutoTrader is one of the most popular places to list, buy, or trade-in a vehicle. The website is easy to navigate and allows you to narrow down your search with various filters. AutoTrader does not offer sellers an option to list their cars for free, but it guarantees you lots of attention from potential buyers for a small fee.
How much is it to list a car on AutoTrader?
You can list your car with AutoTrader for the cost of advertisement fees, the site does not charge any commission. The fees range from the basic $25 ad package that lasts one month to a $100 Premium that will put your car in the spotlight to reach more potential buyers.
Vroom
Vroom is one of the best sites for certified used cars. Some vehicles only have a few miles on the odometer. All cars listed on Vroom must first pass a 126-point inspection, otherwise, the site will not allow you to list your car.
The Vroom team will not only help you sell, buy, or trade a vehicle, but they will also handle the paperwork typically handled by buyers and sellers.
Do I get to test drive a vehicle before I buy?
Another reason for why Vroom is one of the best online places for buying a used car is because it also offers a 7-day or 250-mile test drive. This way, you can make sure the car you are buying is right for you. If you are not satisfied with the purchase, Vroom will take the car back and refund the purchase price.
Carvana
Carvana launched in 2012 with the slogan "Skip the dealership!" To be approved for listing, your car should pass a 150-point inspection and an Experian auto-check. As a buyer, you also get access to several tools that will help you market your vehicle and reach as many buyers as possible.
If you are interested in buying a vehicle on Carvana, you will have the chance to test drive it for seven days. If you are not happy with the ride after 7 days, you can easily return it.
Is Carvana cheaper than dealer?
This is one of the most popular questions about the Carvana marketplace. Various car buyers claim that Carvana may be more expensive than traditional dealerships, but the trade-off is convenience.
Besides the money-back guarantee, this online retailer also offers subsidized travel for customers outside the delivery zones. So the real question you need to ask yourself is: "How much is my convenience worth?"
Bring-A-Trailer
Looking to sell or buy a classic or vintage vehicle? Bring-A-Trailer is the perfect site for that. All the cars listed on Bring-A-Trailer are reviewed by the website's moderators in advance. Like eBay Motors and CarGurus, this online car retailer is auction-based and will charge a commission, once a vehicle is sold.
How much does it cost to sell a car on Bring-a-Trailer?
To list a car with BaT Auctions costs $99, regardless of whether the vehicle sells. Buyers pay a 5% commission on top of the winning bid, with $250 being a minimum amount. The five percent fee is capped at $5000 for sales higher than $100,000.
How to ship a car bought or sold online?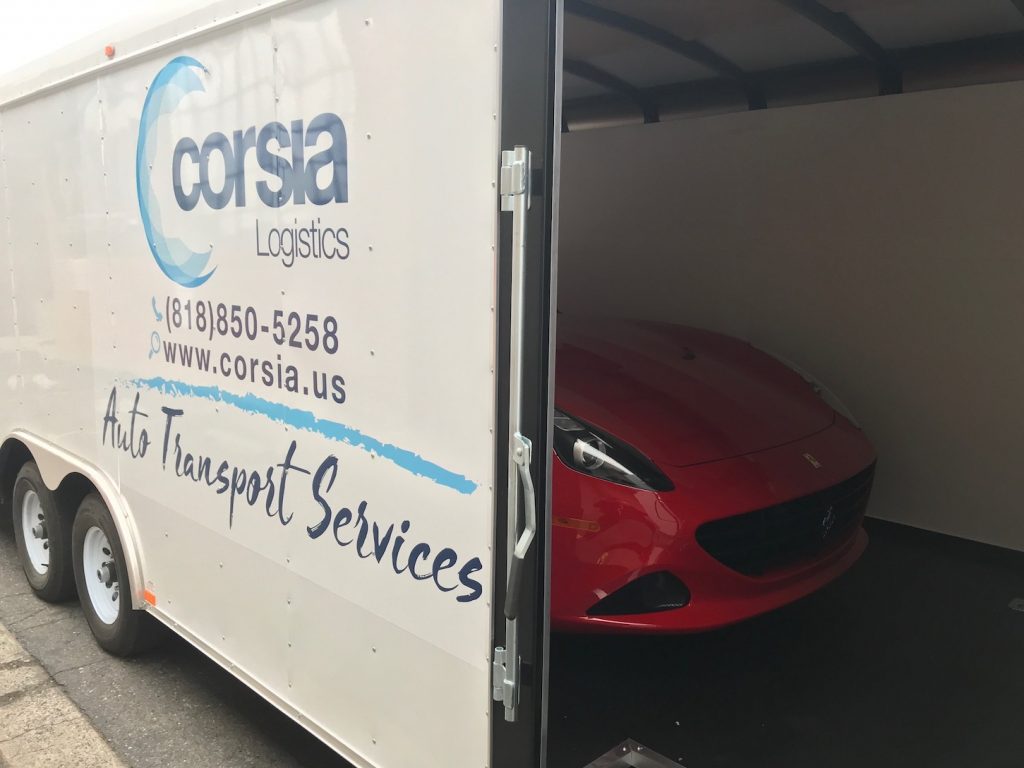 Shipping a car is a simple process. But first, research thoroughly and narrow your selection down to 3 trustworthy companies. Read their online reviews, call to get to know the people behind the company, and request car shipping quotes.
Once you pick a company, you will have to decide between an open car carrier and enclosed auto transport. Corsia Logistics offers both options.
Give us a call or chat with us online and our experienced agents will be happy to walk you through the car shipping process and answer any auto transport questions you may have. Whether you are shipping a car from New York to Florida, or anywhere else in the U.S., we guarantee safe and efficient delivery. Thank you!