Nevada and Florida feel a world apart, especially when you think of landscape and climate, and one might find multiple good reasons for moving. The Sunny State offers a lot. Many consider moving to Miami, Jacksonville, Tampa, and Orlando. Overall moving from Nevada to Florida is happening with growing rates over the last two years.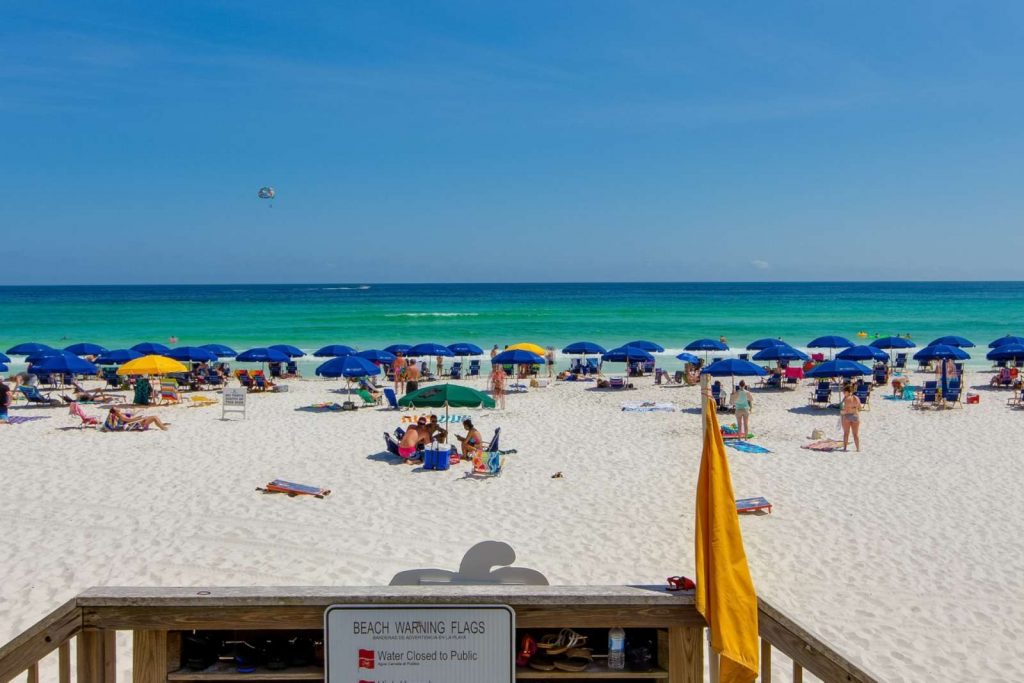 It's a long ride from Nevada to Florida, so moving between the two states is a lengthy process. For example, the distance between Las Vegas and Miami is about 2532 miles. This means that many people prefer to ship their vehicles than to drive this distance.
Road trip is an option, of course
Traveling from Nevada to Florida is a near coast to coast road trip. You'll find a few great stops along the way. If not in a rush, do consider visiting the following cities – Flagstaff, Santa Fe, Amarillo, Dallas, Shreveport, Biloxi, and Orlando.
Another tip is to divide your trip and drive not more than 4 to 6 hours a day. That way, you'll be moving from Nevada to Florida for about 6 days. Of course, it can be faster, but with less sightseeing and with more than two drivers behind the wheel.
As much as it could be fun to drive, shipping a car from Nevada to Florida is always a great option. Especially when you have more than one car. Shipping is easy. Talk to our team now if you have any questions. Shipping a car from Nevada to Florida takes about 5 to 7 days. Various factors could affect the shipping times and this means that shipping time is always an estimate. Open auto transport is usually faster and cheaper, but if you have an expensive weekender you need to preserve consider enclosed auto transport.
Registering a car in Florida
There are several requirements to register a car in Florida with an out-of-state registration in Florida. If you're willing to register your car, then please follow carefully the following guidelines:
Check your Florida license. You can't register a car in Florida unless you have a valid Florida ID
Make sure you have Florida insurance for your car.
Bring or apply for your car's title.
Have your car's VIN and odometer inspected.
Bring cash or a major credit card to pay the registration fee
Locate the nearest DHSMV in your county. It's important to register your car in the county you actually live in.
Visit in the morning in the middle of the week if possible.
Check in at the front desk. Most DHSMV offices require you to check in at the front desk before waiting.
Take a number
Go to the window when your number is called.
Present your registration documents to the clerk.
Wait for the final registration to arrive in the mail.
Put the registration sticker on the top right corner of your license plate.
Place the registration in your car.
Nevada
Nevada is located in the Western United States, it the middle of the desert. Apart from it, the Silver State lacks the natural riches of the neighboring California. So, the people of Nevada has decided to create their own beauty. Las Vegas is one of the US' most-visited attractions and a global gambling hub.
Clark County has a population of more than 2 million, which is roughly 75% of Nevada's population. The majority of them live in Las Vegas, which is the largest city in the state, while Carson City serves as the state's capital.
Economy
Tourism makes up the main branch of Nevada's economy. Of course, nearly all of the tourists come to gamble and party in Las Vegas. Other prominent industries in the state are mining (after all, this is the Silver State) and cattle ranching. Together, they come up with a total GDP of around 146.67 billion U.S. dollars and a GDP per capita of around $64.000.
The largest employers in the state are Clark County School District, Washoe County School District, and Clark County. The largest private employers are mostly casinos and hotels – Wynn Las Vegas, Bellagio LLC, MGM Grand Hotel/Casino, and Aria Resort & Casino LLC.
A brief history of gambling in Las Vegas
Gambling was first brought to the area somewhere in the mid to late 19 century, during the Californian gold rush and a bit before Las Vegas was founded. The city itself was established in 1905 as a small stop between LA and Salt Lake City.
Gambling was legalized in 1931 when the town faced an influx of workers on the Hoover Dam. The first hotel-casino was El Rancho, built by Tommy Hull. Many more followed, most famously Bugsy Seigel's Flamingo. And, of course, we've all seen the story of Moe Greene, Michael, and Fredo Corleone.
In 1970, Las Vegas expanded into family entertainment, offering fun for all, not just gambling.
Education
Several universities provide higher education in the territory of Nevada. Check out the University of Nevada, Las Vegas, that in Reno, Nevada State College, and Truckee Meadows Community College. And further, check the Desert Research Institute.
Also, The Nevada Aerospace Hall of Fame provides educational resources and promotes the aerospace and aviation history of the state.
Infrastructure
Interstate 15 (I-15) runs through the southern tip of the state, serving Las Vegas and other communities. I-215 and I-515 also serve the greater Las Vegas area. I-80 traverses northern Nevada, roughly following the Humboldt River from eastern Utah and the Truckee River westward through Reno to California. It has a branch line, I-580.
Nevada also has several US interstates: US 6, US 50, US 93, US 95, and US 395. Nevada also has 189 federal highways. Many counties in Nevada also have county road systems, although many are unmarked or paved in rural areas.
Parks and recreation
Nevada is a largely wild state. It has 68 designated wilderness areas. The biggest are the Mormon Mountains, Meadow Valley Mountains, and Delamar Mountains.
Clark County has four state parks – Big Bend of the Colorado State Recreation Area, Old Las Vegas Mormon Fort State Historic Park, Spring Mountain Ranch State Park, and Valley of Fire State Park.
Disadvantages of living in Nevada
Crime rates are high. Now, this depends on your location. Crime is very low in the state's rural areas but is very, very high in Vegas and other larger cities.
The aforementioned rural areas are deprived of crime but are also deprived of decent healthcare. The best medical facilities are clustered in the three major cities.
Nevada is very expensive.
And hot.
The car registration fees that you pay for your license plate tabs each year in Nevada are based on the value of your car. That means if you purchase something new, the expense is several hundred dollars more than what you would pay in other western states like Idaho, Utah, or Colorado.
Despite that, traffic can be a nightmare.
Nevada is not a state for everybody to thrive. Many try and live there for a few years and then move. And when you get used to the hot climate, you then have that as a requirement. That is why Florida becomes destination number one for transplants from Nevada.
Florida hello!
Far from Nevada's dust, heat, and desert, Florida is a tropical jewel, nested on the Gulf of Mexico. Climate can hardly be compared between the two states, who still share a common trait in being a global tourist and party destination.
When we take into consideration the following factors, we might understand why one might consider moving from Nevada to Florida.
Economy
Florida's an economical juggernaut. It has a GDP of $1.2 trillion, ranking fourth in the US, along with a GPD per capita of just over $50.000.
Florida's major employers are Publix, Darden, Jabil, SFN Group, and Bloomin' Brands, all with close and over 100.000 employees all over the state. Other major employers, but in the government sector are the US military, Miami-Dade County Public School, Baptist Health South Florida, and Walt Disney World.
Other strong industries in Miami include mining, seaports, boating, real estate, and banking. The banking industry is especially strong – Brickell Financial District has the largest concentration of international banks in the whole of US.
Major tourist resorts
The combination between the Gulf of Mexico and Disneyland is an expected success. And when we add Florida's other major tourist pros, then we get a huge plethora of resorts in all shapes, sizes, and price ranges. If you're into the state, be sure to visit Disney's Animal Kingdom Villas, South Seas Island Resort, Little Palm Island Resort & Spa, or Omni Amelia Island Plantation Resort.
Education
With an education system made up of public school districts and independent private institutions, 2,833,115 students in Florida attended 4,269 public elementary, secondary, and vocational schools in Florida's 67 general education districts or 7 special education districts in 2018. Miami-Dade County is the largest of Florida's 67 regular districts with more than 350,000 students, and Jefferson County is the smallest with fewer than 1,000 students. Florida spent $8,920 per student in 2016, ranking 43rd in the nation in spending per student.
Florida has several top-notch universities, both private and public. The finest ones are considered to be the University of Florida, the University of Miami, Florida State University, and the University of South Florida.
Kennedy Space Center
The Kennedy Space Center is a major hub of the US' aerospace industry and is one of NASA's major bases of operations. It was the launchpad for operations like Apollo, Skylab, and the Space Shuttle programs.
It is located on Merritt Island adjacent to Cape Canaveral Space Force Station. The Kennedy Space Center was officially opened in 1949, and initially served missile testing site.
Infrastructure
Florida's highway system contains 1,495 mi of interstate highways, and 10,601 mi of non-interstate highways, such as state highways and U.S. Highways. Florida's interstates, state highways, and U.S. Highways are maintained by the Florida Department of Transportation.
Tourism in Florida
Did you know that the Greater Miami Metro is the only metropolitan area in the US with two national parks? Well, you sure know now! Both the Everglades National Park and the Biscayne National Park are in the vicinity of Greater Miami.
Everglades National Park
The Everglades is known as the largest tropical wilderness in the US, and the third-largest national park after Death Valley and Yellowstone.
The best trails in the park are near the Royal Palm Visitor Center (most notably the Anhinga Trail). There, visitors can see alligators, marsh and wading birds, turtles, and bromeliads. Other notable trials are Gumbo Limbo Trail, those at the Long Pine Key, and in the Marjory Stoneman Douglas Wilderness Area.
If you're into camping, then check out the camping sites near Long Pine Key and those near Flamingo.
Biscayne National Park
The Biscayne National Park is located south of Miami. Nearly 95% of the park consists of water and the famous Biscayne Bay barrier reefs.
The park itself is meant to protect the shoreline mangrove swamp, the shallow waters of Biscayne Bay, the coral limestone keys, and the offshore Florida Reef.
The Biscayne National Park might not be huge for hiking, but is enormous in diving! The Maritime Heritage Trail is famous for its shipwrecks and hosts guided snorkeling tours. The wrecks of the Arratoon Apcar (sank 1878), Erl King (1891), Alicia (1905), Lugano (1913) and Mandalay (1966) are on the trail together with an unknown wreck from the 1800s and the Fowey Rocks Lighthouse.
Disadvantages of living in Florida
Florida has some issues to be considered before moving there from Nevada. The climate might be a blessing, but sometimes it can turn into a curse. Also, some cities might be on the verge of overpopulation with all supporting issues. Further, due to the high tourist influx, some places might be overcrowded.
Heat and humidity can be depressing, especially in summer. Even if you're in the shade, you will still sweat.
Whether driving or at home, you are totally dependent on air conditioning for most of the year.
The weather can get uncomfortable. It is raining a lot. Thunderstorms can cut power, and lightning strikes are common.
When hurricanes get close to you, they can be destructive and damaging to your property.
Florida is completely flat, which can be tiring to drive. If you like mountains, hills.
There are a lot of bugs all over the place, some of them pretty big. Cockroaches and fruit flies are really annoying, and cooking or eating requires meticulous cleaning.
To add some spice, snakes, spiders, scorpions and alligators are also part of the landscape, alonside hordes of bloodthirsty mosquitoes.
Certain areas of Florida can be very touristy and overly commercialized, especially the Orlando area.
Las Vegas and Miami head to head
Here are some final data if you consider moving from Nevada to Florida. The two cities are similar in population, with the major difference being that Miami is slightly more expensive. However, Florida's labor market is far more attractive than the disproportionate one in Nevada, and this can be seen in the unemployment rate.