The history of automobiles dates back to the 15th century, with the first prototypes of steam and gasoline cars. We have to thank Karl Benz for the invention of the first "real" automobile in 1885-1886. A few years later, in the 1890s, the automotive industry emerged, replacing the horse-drawn carriage.
The United States was a leader in the automotive industry for several decades. In 1929, before the Great Depression, the world had 32,028,500 automobiles in use. And the U.S. automobile industry produced over 90% of them. At that time, the U.S. had one car per 4.87 persons.
Consequently, the development of the automotive industry led to the establishment of the auto transport industry. During the 19th century, automobiles were mostly transported by rail. Boxcars would usually carry 2-4 automobiles. Yet, for most auto dealers at that time, rail transportation was not very efficient. It was time-consuming and expensive. That is why auto dealers began purchasing the cars directly from the manufacturers.
The first semi-truck
With the growing number of new cars, the automobile manufacturers' necessity to efficiently deliver them to customers was increasing. Many auto dealers were "forced" to find easier ways to transport their cars.
Scottish-American automobile designer and racer Alexander Winton, (June 20, 1860 – June 21, 1932), started his career as an automobile manufacturer in 1896 in Ohio, following his migration to the US from Grangemouth Scotland back in 1879.
After selling his first cars in 1898, Winton soon realized that to deliver his cars to customers, far away from Ohio, he had to find a quick solution. By loading cars on top of a flat cart, attached on top of the engine and to the back of a modified truck, Winton invented the world's first semi-truck.
Winton at the 1903 Gordon Bennett trophy race in Ath, Ireland (source: Wikipedia)
In the same year, Winton was inducted into the National Inventors Hall of Fame and the Automotive Hall of Fame. In 1899, he sold his first manufactured semi-truck. The trucks became so popular that Winton Motor Carriage Company soon started assembling the semis for other manufacturers approximately a year after the first sale.
However, there was an issue with Winton's truck design. The semi could only transport one car at a time and required three people to attach the cart to the truck.
While the manufacturers' demand kept going up, Winston's design still lacked functionality. And that is why other car manufacturers decided to take the initiative in their hands and design their own semi-trailer trucks.
A good example is the car salesman George Cassens who designed a trailer pulled by a 2-ton truck with the hauling capacity of four cars. He was pretty successful during the early '20s.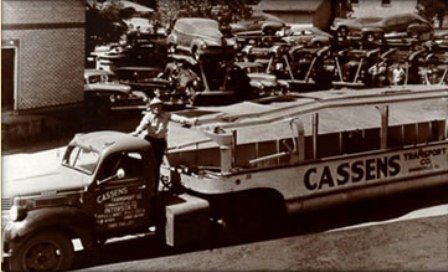 Cassens Transport trailer #57 parked at the Hamel terminal in the mid-1940s. Gilbert Honnerkamp, driver.
Source:  www.cassens.com
The introduction of bi- and tri-level auto transport carriers
During the 40s and 50s railroads were using automobile-loading assemblies in order to fit as many cars as possible into a boxcar. The new approach, however, proved to be unsuccessful and quite expensive.
In the mid-50s, Volkswagen engineers in collaboration with the German railroads designed a two-level flatcar that could carry 10 vehicles at a time. Their design, which was first used in 1954, proved very successful and became the first auto rack.
Also in 1954, Evans Products developed a bi-level auto-loader with a six-car capacity. Three years later, in 1957, Canadian National Railroad introduced the bi-level auto carriers. They were similar to traditional boxcars but had 2 floors, could carry 8 vehicles, and had doors at both ends.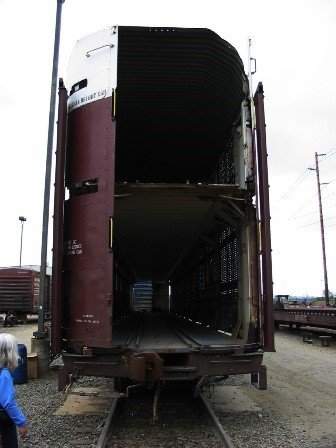 The open end of a bi-level autorack that is undergoing repairs
source: Wikipedia
In 1959, cars were shipped by rail loaded on highway auto-carrier trailers that could carry 8 – 10 cars per flat car. In the same year, the Saint Louis-San Francisco Railroad invented a bi-level rack prototype mounted on the 42-foot flatcar.
"Satisfied that the basic concept was sound, the railroad contracted with Pullman-Standard to design and construct a full-size tri-level prototype. The result that rolled out of the Pullman plant on January 29, 1960, was SLSF 3000, an 83-foot tri-level car capable of carrying 12 automobiles."
Air transport and Cargo ships
While companies were looking for ways to perfect land transport, airplanes and cargo ships started to further contribute to the history of auto transport.
Air transport
Before the late 40s, airplanes transported goods and people. But with the increasing demand to transport cars quickly and efficiently, the need of using air transport increased as well. Auto transport by air dates back to the late 40s and early 50s. One of the airplane companies that operated back then was Silver City. It used to transport cars by air between England and France from the late 40s to 60s.
Silver City Airways Freighter 32 loading a car for Cherbourg at Southampton in September 1954
source: Wikipedia
Cargo ships
In the early 60s, cargo ships were also able to transport large quantities of cars and became very useful at the time. The US military contracted the Sun Shipbuilding and Dry Dock Company in Chester, Pennsylvania in 1957, to construct "a new type of motorized vehicle carrier."
"The ship, the Comet, had a stern ramp as well as interior ramps, which allowed cars to drive directly from the dock, onto the ship, and into place. Loading and unloading were sped up dramatically. Comet also had an adjustable chocking system for locking cars onto the decks and a ventilation system to remove exhaust gases that accumulate during vehicle loading."
The first pure car carrier (PCC), which could accommodate various types of vehicles, was invented by Japan's K Line in 1973. The European Highway could carry 4,200 automobiles.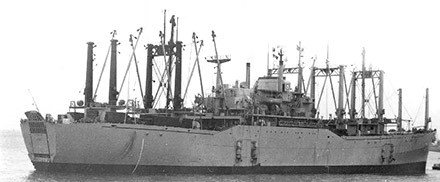 The USNS Comet
source: nonplused.org/panos/usns_comet/index.html
Modern-day auto transport
Since the early 80s auto transportation has been evolving rapidly. Today cars are mostly transported by car carrier trucks which are equipped with the latest technology. And air freight and sea freight are the most popular ways to transport cars overseas.
Airfreight, however, is quite expensive for most people. If you are wondering about auto transport costs, you can always call us or request a car shipping quote online. Railway transportation is still used to transport automobiles, but compared to other modes of transportation it is not very popular.
Find answers to the most important auto transport question on our website and then call our team to discuss your car shipping needs. Thank you!