If you need complete protection for your vehicle during shipping, enclosed auto transport is your best bet. Most high-end automobile owners prefer this method of transportation, despite the higher cost.
In this short guide, you will learn what makes enclosed auto transport more expensive, as well as why the investment is worth it. We will also delve into other factors that affect the shipping cost, in general, to help you better understand the economics of car shipping quotes.
How much does enclosed car shipping cost?
The cost of enclosed car shipping is never a flat rate – it varies from vehicle to vehicle Why? Not all high-end automobiles are the same and weigh the same, for instance. And logically, the bigger and heavier your vehicle is the more it costs to transport it.
Furthermore, not all models are loaded on the carrier the same way. Certain vehicle modifications require special equipment for loading and unloading, brining the costs up.
At Corsia Logistics we make it our goal to provide you with all the relevant information to help you make educated decisions. When you contact us, our logistics experts explain the process and the cost of shipping a car in detail.
Why is enclosed auto transport more expensive?
By completely shielding your car, enclosed trailers provide extra protection from potentially damaging weather and road elements.
The drivers must know how to operate enclosed trailers and have experience handling high-end vehicles.
Liability and cargo insurance is also higher since these carriers transport high-end cargo.
Unlike open carrier that can carry up to ten cars, an enclosed carrier usually only transports one to seven cars at a time.
The number of enclosed carriers, in general, is limited. In the US, only about 10% of all car shipping trucks are enclosed. Consequently, limited availability makes this type of transport more expensive.
What type of vehicles ship enclosed?
Every automobile is valuable, and enclosed auto transport is available to all our customers. However, the final word is always yours.
In our experience, owners of sports cars, classic, luxury, antique, exotic, and any high-end vehicles prefer to ship their cars via enclosed carriers. They know it is the safest option and choose to have their cars fully protected at all times.
We recommend enclosed auto transport for all vehicles worth over $50,000. Especially, if you want your car to arrive in a squeaky clean condition.
Why should I request multiple car shipping quotes?
When we calculate the cost of auto transport, we take into account the following factors:
The weight of your car – the heavier your vehicle is, the more expensive it is to transport.
Vehicle modifications – certain alterations and aftermarket accessories may require extra equipment and special skill for loading.
The distance between the source and destination – the longer your car needs to travel, the more expensive it is.
Supply and demand – if you are interested in a particular route that has a higher demand, you may have to pay a higher price.
Additionally, vehicle operability – running or not, – as well as standard vs. expedited service will have an effect on the final shipping price.
To get a ballpark idea of how much it will cost to ship your car via an enclosed carrier, we recommend you to request multiple auto transport quotes. Do not settle for the lowest price. But going with the most expensive company doesn't guarantee the best quality service either. Look for the golden mean – a realistic rate that reflects the current market conditions.
At Corsia Logistics, we do not use instant quote calculators. Our team tracks daily market fluctuations on national dispatch boards, so we can offer realistic and reasonable prices, fair to both – our customers and carriers.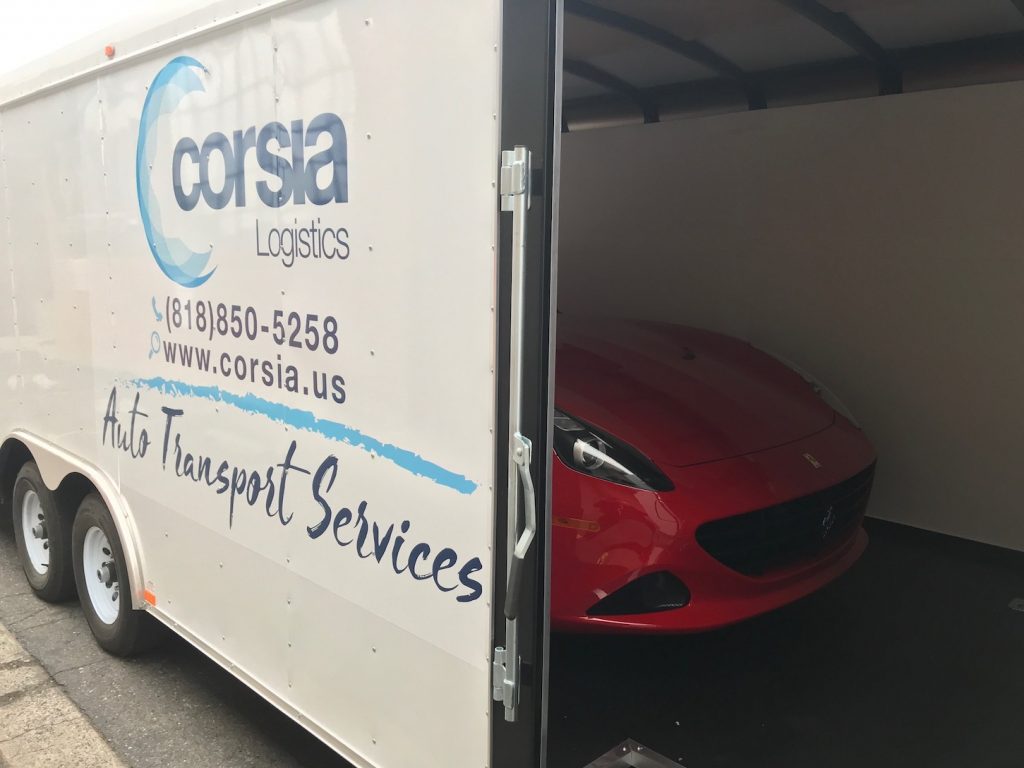 Corsia Logistics will ship your vehicle in a timely and professional manner. We specialize in enclosed transport and are ready to ship your car not only within the United States but also internationally. Should you have any questions or need a quote, do not hesitate to dial (818) 850.5258 or chat with one of our vehicle relocation experts online. Thank you!