Moving from the concrete jungle of New York City to the golden beaches of Florida is a dream come true for many people. Taking into consideration New York's persistent issues, such as traffic and high costs of living, Florida's advantages shine.
Moving from New York to Florida
Moving across the country is not a breeze, in general, but working with the right companies always helps alleviate the stress. In some instances people prefer to move their household goods by themselves by renting a cargo trailer and loading as much as possible. Loading your personal automobile is usually part of the deal. However, when you have more than one automobile and no second driver, then shipping your second car is the best option.
Moving from New York to Florida could turn into a great east coast road trip. driving may take up to 24 hours to a few days behind the wheel. It all depends on the exact starting point and final destination in Florida. The total distance between Buffalo, NY and the city of Orlando, for example. This trip is about 1180 miles.
You can pick among tens of great towns, nature preserves and beaches along the way. All places are rich in culture, history, great food and amazing nature, and offer things to do.
Do not miss the following cities:
Pittsburgh, PA
Washington D.C.
Virginia Beach, VA
Myrtle Beach, SC
Charleston, SC
Savannah, GA
Daytona Beach, FL
Hello Sunny Places!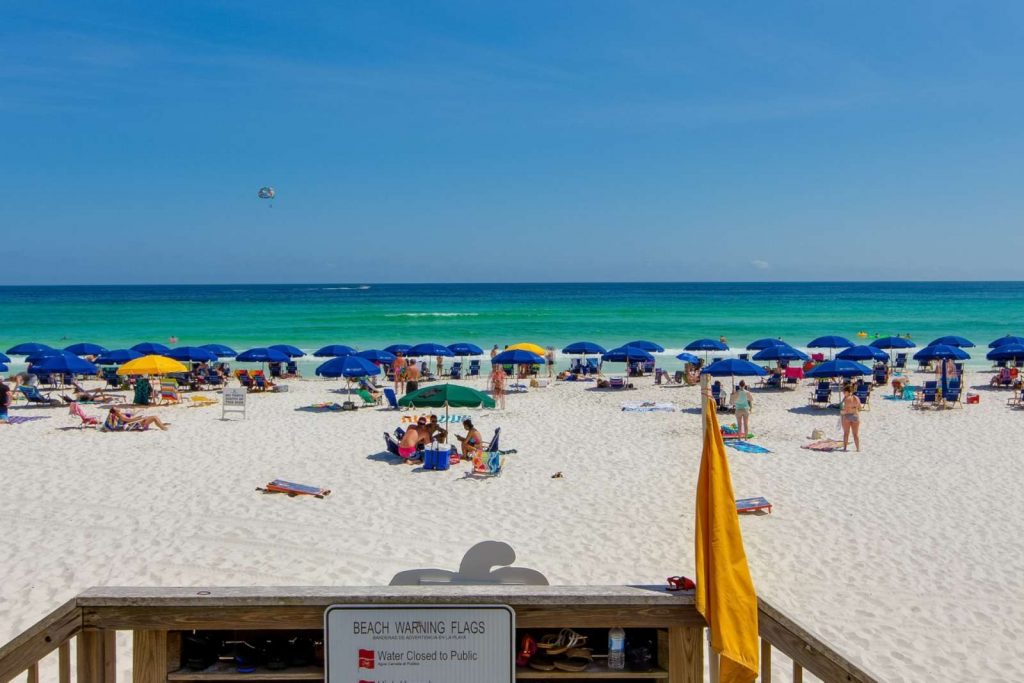 Florida is called the sunshine state for a reason – it gets more than 230 sunny days a year. The difference with the state of New York is stark. Florida does not have four seasons, but also it does not have freezing winters. The climates of the two states can not be compared, yet both states share common characteristics as global travel and entertainment destinations.
Economy
Florida's economy has been growing tremendously in the past few years. With a GDP of $1.4 trillion, it ranks fourth in the United States, with a per capita GDP of $63,000 as of 2022.
Florida's largest employers are Publix, Darden, Jabil, SFN Group, and Bloomin' Brands, with more than 100,000 employees statewide. Other major employers are in the government sector and include the U.S. Military, Miami-Dade County Public Schools, South Florida Baptist Health.
Other strong industries in Miami include seaports, boating, real estate, and banking. The banking sector is particularly strong—the Brickell Financial District has the largest concentration of international banks in the nation.
Important tourist attractions
The combination of the Gulf of Mexico and Disneyland is an expected success. When we add the other big travel destinations in Florida, we have a ton of tourist destinations of all shapes, sizes, and price points. When traveling to the state, be sure to visit Disney's Animal Kingdom Villas, South Sea Island Resort, Little Palm Island Resort & Spa, or Omni Amelia Island Plantation Resort.
Education
With an education system made up of public school districts and independent private institutions. In 2018, almost 3 million students attended 4,269 public elementary, secondary, and vocational schools in Florida. Miami-Dade County is the largest of Florida's 67 regular districts with more than 350,000 students, and Jefferson County is the smallest with fewer than 1,000 students. Florida spent $8,920 per student in 2016, ranking 43rd in the nation for spending per student.
Florida has several top-ranked private and public universities. The best are considered to be the University of Florida, the University of Miami, Florida State University, and the University of South Florida.
Kennedy Space Center
Kennedy Space Center is a major hub for the U.S. aerospace industry and one of NASA's most important operating bases. It was the launch pad for operations such as Apollo, Skylab, and the Space Shuttle program.
It is located on Merritt Island, adjacent to the Cape Canaveral Space Force Station. The Kennedy Space Center officially opened in 1949 as a rocket testing ground.
Everglades National Park
The Everglades is known as the largest tropical wilderness in the United States and the third largest national park after Death Valley and Yellowstone.
The best trails in the park are near the Royal Palms Visitor Center (especially the Anhinga Trail). There, visitors can see alligators, turtles and bromeliads. Other notable trials include the Gumbo Limbo Trail, Long Pine Key and the Marjory Stoneman Douglas Wilderness Area.
If camping is your thing, check out the campgrounds near Long Pine Key and the campgrounds near Flamingo.
Biscayne National Park
Biscayne National Park is located south of Miami. Almost 95% of the park is water and Biscayne Bay's famous barrier reef. The park itself is designed to protect coastal mangrove swamps, the shallow waters of Biscayne Bay, coral limestone reefs, and the offshore Florida Keys.
Biscayne National Park may not be great for hiking, but it is great for diving! The Maritime Heritage Trail is known for its shipwrecks and offers guided snorkeling tours. Remains of Arratoon Apcar (sunk in 1878), Erl King (1891), Alicia (1905), Lugano (1913), and Mandalay (1966) as well as an unknown 19th-century wreck and Fowey Rocks lighthouse.
Disadvantages of living in Florida
Florida certainly has issues to be considered before moving there. The climate might be a blessing, but sometimes it can turn into a curse. Also, some cities might be on the verge of overpopulation with all supporting issues. Further, due to the high tourist influx, some places might be overcrowded.
Heat and humidity can be depressing, especially in summer. Even if you're in the shade, you'll still sweat. Whether you're in your car or driving, you're totally dependent on air conditioning for most of the year. At night don't expect any cool breeze as well. Your doors and windows will be tightly shut all the time! It is raining a lot, and it is raining a lot! Thunderstorms can cut your power, and lightning strikes are common. When hurricanes get close to you, they can be destructive and damaging, and scary.
Florida is completely flat, which can be tiring to drive. If you like mountains, hills and hiking in general then maybe this state is not for you.
Furthermore, there are a lot of bugs all day and night, some of them pretty big. Cockroaches and fruit flies are really annoying, and cooking or eating requires meticulous cleaning.
Snakes, spiders, scorpions to contend with, and do not ever forget the hordes of bloodthirsty mosquitoes.
Certain areas of Florida can be very touristy and overly commercialized, especially the Orlando area. Hence, if you prefer more peace and quiet make sure to explore a lot and pick your town carefully.
Goodbye New York
The State of New York is dominated by the famous Big Apple – New York city in terms of economy, population, and entertainment. However, cities like the state's capital Albany, Buffalo, Yonkers, and Rochester provide ample opportunities for career development, entertainment, and education.
New Yorkers claim that New York City is the most famous city in the world. Of course, they are right – the Big Apple is the gold standard when it comes to economics, business opportunities, entertainment, and more! It attracts people from all over the world, so why would anyone leave New York and move to Florida?
Buffalo's unemployment rate is 9.5%. The US average is 6.0%.
Buffalo's job market has grown 1.0% over the past year. Future job growth over the next decade is projected at 21.9%, below the U.S. average of 33.5%.
Buffalo's sales tax rate is 8.8%. The U.S. average is 7.3 percent.
Buffalo's income tax rate is 6.5%. The U.S. average is 4.6%.
When comparing living costs, tax rates can make a big difference.
Earnings and Salaries in Buffalo
The median income for Buffalo residents is $20,726 per year. The US average is $28,555 per year.
The median household income for Buffalo residents is $31,668 per year. The U.S. averages $53,482 per year.
The largest employers in town are Kaleida Health, M&T Bank, Catholic Health Systems, and Wegmans Food Markets Inc.
There are so many things to do in your free time in New York! Parks, sports fields, theaters, museums, clubs… It's called the city that never sleeps.
Every professional sports league has a New York team. They usually move on top of their respective tables and are a favorite for any trophy. The most famous are of course the Mets and Yankees, the Brooklyn Nets and the Knicks, the WNBA's New York Liberty, the Giants and Jets, the New York Devils, the Islanders, and the Rangers.
Disadvantages of living in Buffalo, NY
Buffalo has several major cons that stand out, but do they overshadow the town's pros?
Buffalo's overall crime rate is higher than the national average and also higher than the state average.
Environmental factors from population density – While there is an association between population density and a higher quality of life, it is important to highlight each individual's circumstances and stress levels. This is seen as damage to the environment and stress but is also a double-edged sword because of its social and economic benefits.
High Poverty Rate – Buffalo has a 24.6 percent poverty rate, which is higher than any other city in the United States. The average urban poverty rate in the United States is about 10-13%.
Shipping your car from New York to Florida
This comes with moving to a new state. Most people prefer to ship their vehicles instead of driving. To learn more you can review our shipping a car from New York to Florida guide and get a price online. You need to choose your preferred service and prepare your car for shipping. Our logistics agent will help you book the right service and work on your budget.
The cost to ship a car to Florida depends on a few factors. The vehicle make and model, together with the distance set the base price. Shipping a non-running car drives the price up. Remote areas of the country also cost more. However, current supply and demand decide the final price.
Shipping a car from New York to Florida takes about 3 to 5 days. Various factors could affect the shipping times and this means that shipping time is always an estimate. Open auto transport is usually faster and cheaper due to high availability. Talk to our team now.
How to register a car in Miami, Florida
This would be the final step once you move and transport your car to Florida. To complete your Florida car registration, you must have your title and proof of identity, Florida car insurance documents, and pay your registration fees at the local Florida Department of Highway Safety and Motor Vehicles location.
Florida law requires all residents to present their vehicle for registration with the Florida DHSMV. You can register your car for a year or two.
If you just moved and got a new license plate, Florida law gives you 10 days to register your vehicle after you:
start working in Florida.
enroll your child in a Florida school
lease or buy a property
With this we end our moving from New York to Florida guide. If you need a recommendation for a moving company, call our team now. We work with movers from across the country and all over the East coast and we can easily recommend a company. To learn more about shipping a vehicle call our team now.