For the untrained eye, Alabama and Arizona might look pretty much alike – warm, pleasant states, Southern hospitality, great cuisine. Alabama even has an access to the Gulf with some great beaches, why bother moving to Arizona?
Moving from Alabama to Arizona
Moving from Alabama to Arizona can be a real southern adventure. The two states are located about 1.700 miles apart. This will result in more than a 24-hour drive between the two states' capitals – Phoenix and Montgomery. Such a road trip will take you through New Mexico, Texas, Oklahoma, Louisiana, and Mississippi before reaching Alabama, providing a lot of exciting places to see.
Road trip and stops
Moving from Alabama to Arizona is an exciting adventure on its own. The aforementioned states are full of places worth visiting. Here are the major cities where you can stop for a rest and maybe for some sightseeing.
Alabama is rather close to Arizona, so driving is an option. However, when the distance is more than 200 miles away many people prefer to ship their vehicles. Moreover, if you have more than one automobile you will certainly need to arrange transport for the vehicles that will not be driven.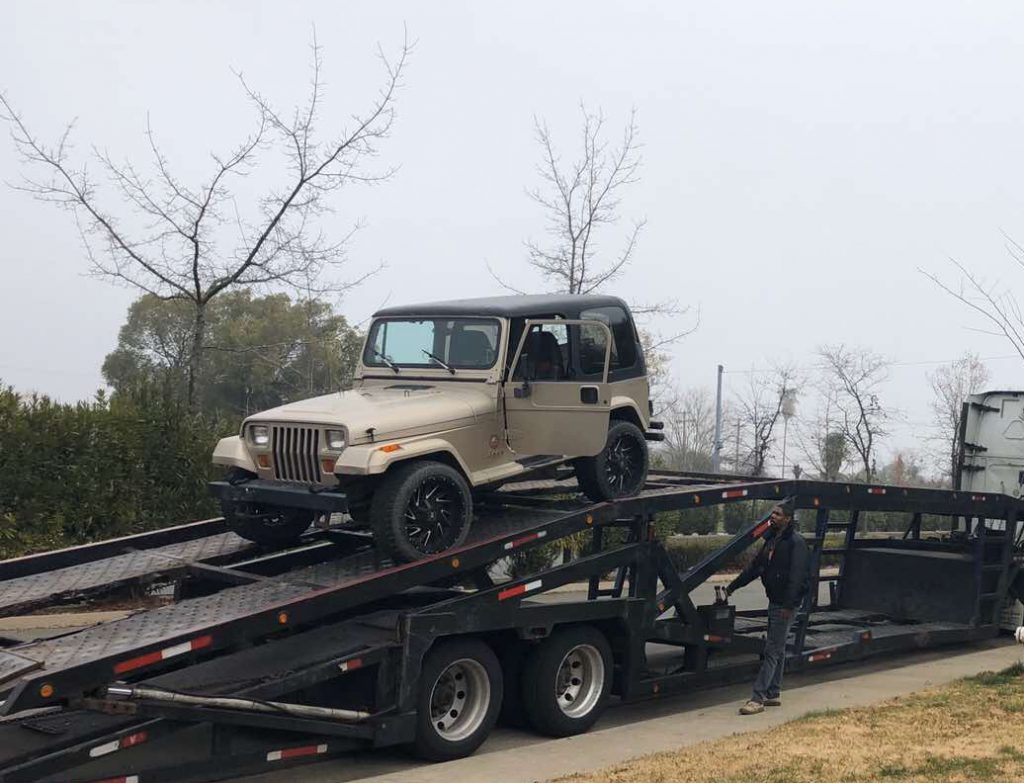 Shipping a car from Alabama to Arizona is the easiest way to move your vehicles.
Shipping a car from Alabama to Arizona takes about 3 to 5 days. Various factors could affect the shipping times and this means that shipping time is always an estimate. Open auto transport is usually faster and cheaper due to high availability.
Registering a car in Arizona
If you just bought a new car in Arizona, remember that you have 15 days to complete the registration process. If you purchased a car and need to transfer your title to complete the car registration in Arizona:
You must complete a title or title transfer application
Obtain a notarized and signed vehicle title
Lien release if applicable
Title and Registration Fees Other documents required
If you're moving to Arizona from Alabama or another state, the Arizona car registration process is slightly different. Here are the next steps and a few more things you need:
Complete and submit ownership and registration applications
If you live in Phoenix or Tucson, you must complete an emissions compliance form
Your foreign ownership and registration information (if missing, you may be subject to a vehicle inspection)
License plate from your previous country of residence
Deposit waiver if applicable
Title and Registration Fees
If you have a rental vehicle, you must provide the lessor's authorization
After establishing residency in the state, the car needs to be registered in Arizona. You are considered a resident if you live and work in Arizona, are in Arizona for seven months or more, or have children in Arizona schools.
If you're waiting for the paperwork to start your car registration in Arizona, you can apply for a 90-day registration for $15 while you wait for all the materials.
Good Bye Alabama!
Sweet Home Alabama is a state located in the Southeastern US. The Yellowhammer State as is it also known, borders Tennessee, Georgia, and Mississippi. The state has an access to the Gulf of Mexico through the port city of Mobile.
Alabama has a population of just over 5 million, ranking as the 24th largest state in the country. Its capital is Montgomery, with a population of just over 200.000. It is the third-most populous city in the state, slightly smaller than Birmingham and Huntsville.
Economy
Both Alabama's GDP and GDP per capita have been on the rise in the last 5 years. The state's GDP is $230 billion, while the GDP per capita is around $46.000.
The largest employers in the state are the Redstone Arsenal, the University of Alabama at Birmingham (includes UAB Hospital), and the Maxwell Air Force Base. Alabama relies on high-tech industries such as aerospace, aviation, bioscience, and the automotive industry. Due to its warm and diverse climate, the agriculture the tourism are also strong. The aerospace industry has even made a mark on the state. The Saturn V, the very first rocket that sent a man to the moon was designed in Huntsville, Alabama, at the George C. Marshall Space Flight Center.
Education
Alabama has some of the finest universities in the South, with the majority of the being public-funded. The most attractive of them are the University of Alabama, Auburn University, the University of Alabama at Birmingham, Columbia Southern University, and Samford University.
The oldest active higher education institutions are the rather small Athens State University and University of North Alabama, established in 1822 and 1830 respectively.
Infrastructure
Alabama has six major interstates: Interstate 65 (I-65) runs north-south through the central state; I-20/I-59 runs from the Mississippi's Midwestern border to Birmingham, and I-59 enters the state's Northeast corner, I-20 continues east toward Atlanta. I-85 originates in Montgomery and travels northeast to the Georgia State Line, forming the main thoroughfare to Atlanta.
Alabama's contribution to the automotive industry – windshield wipers
We have to thank Mary Anderson for our clean windshields! Mary Anderson was born in 1866 in Green County, Alabama.
When traveling to New York in 1903, Anderson noticed that the driver of the trolley car had a hard cleaning the windshield from the snow.
Upon her return to Birmingham, Anderson sketched her idea for a manual windshield wiper that would be operated from "the vestibule of the motor car," according to an article on NPR. Anderson had the idea patented by the U.S. Patent Office in 1903 as Patent No. 743,801 for "Window Cleaning Device." For a time, she sent queries to auto manufacturers in hopes they would produce the device.
She passed away in 1953, sadly without making a cent out of her invention that is essential for the automotive industry.
Tourism
Lynyrd Skynyrd's Sweet Home Alabama introduced the whole world to the Yellowhammer State's hospitality. Here are the best places where to feel it in full force and have a great time along with it.
Disadvantages of living in Alabama
You gotta love Sweet Home Alabama, the food, blue skies, the bright waves of the Gulf, and the Clyde May's Alabama Style Whiskey, the state's official drink, but are they enough to make you consider moving to Arizona or elsewhere? On the downside:
Alabama lacks professional sports, so no NBA, NHL, and NFL.
Thanks to the close proximity to the Gulf of Mexico, the weather can turn in a matter of minutes – from bright sunshine to a hurricane.
Everything's bigger in the Yellowhammer State – gators, spiders, snakes, and scorpions. And the cockroaches, too. Oh, and they can fly.
Most shops in the smaller cities are still closed on Saturdays and Sundays.
Some counties in Alabama have severe alcohol restrictions – some of them ban it on the weekend, while others prohibit it entirely.
It's a Class-B felony to wrestle a bear. Not that you're going to wrestle one, but still.
Hello Arizona!
People mostly associate Arizona with great food, even better drinks, and vast natural parks. The Grand Canyon State is riding high on the high-tech wave that has been revolutionizing the southern states' economy in the last decades.
Arizona has a population of around 7.1 million. Phoenix is both the state's capital and its largest city, which makes it somewhat of an oddity. It is the only city in the US that is both a state capital and its largest city and the only state capital with a population of over a million (1.6 million to be precise).
Economy
Arizona has a GDP of $ 337.4 billion, a GDP per capita of $56.000, with an unemployment rate of 6.6%. What is remarkable is that Arizona managed to achieve all of this without a port or any access to a major body of water that will spur its trade.
Arizona has strong traditions in the agriculture and mining industries. Both of them lead to the rise of several high-profile manufacturing industries – from electronics, aerospace vehicles, and transportation equipment, to food, beverages, and high-quality tobacco products.
The leading employers are Banner Health, the State of Arizona, Walmart, Arizona State University, and Fry's Food Stores. Along them operates a large number of Fortune 500 companies, like Avnet, Republic Services, and Freeport – McMoRan.
Education
Higher education in Arizona is evenly separated. Three of the largest universities in the state are public – the University of Arizona at Tucson, Arizona State University in Tempe, and Northern Arizona University in Flagstaff are publicly funded. The University of Phoenix, by far the largest in the state, and Ottawa University are private.
Arizona is also the home of a couple of tribal institutions – the Diné College and the Tohono O'odham Community College.
Healthcare
Arizona holds high standards in its healthcare. All medical facilities provide high-quality services. Along with the aforementioned Banner Boswell Medical Center, other prominent hospitals include Mayo Clinic – Phoenix, St. Joseph's Hospital and Medical Center, and Chandler Regional Medical Center.
Infrastructure
Main interstate routes include I-17, and I-19 traveling south-north, I-8, I-10, and I-40 traveling west-east, and a short stretch of I-15 traveling southwest-northeast through the northwestern corner of the state. In the future, I-11 travel through Arizona following US 93, it may replace I-19 and will terminate at the Mexican border in Nogales.
Historic US 66, a major route for Midwestern emigrants prior to the advent of the interstate highway system, traversed the northern part of the state, passing through Flagstaff and Kingman. US 66 in Arizona closely followed the route of what is now I-40 except for an 88 mi (142 km) stretch between Seligman and Kingman are now known as SR 66, where the route veered to the north passing through Peach Springs.
Tourism
Despite being a landlocked state, Arizona is one of the most popular tourist destinations in the United States and they make up for the lack of beaches in style. Arizona is home to:
22 national parks
100+ wineries
100+ craft breweries
More than 50 James Beard-nominated restaurants
35 state parks and natural areas
The Arizona Trail
Grand Falls and Havasu Falls
Three out of the top 10 best spas in the world
Sedona
Food and drink in Arizona
Everything tastes better in the South. The shared traditions with Mexico, along with better agriculture and farming have produced some culinary masterpieces between the Gulf and the Pacific. When in Arizona be sure to try Mesquite flour, Medjool dates, Sonoran hot dog, Posole. These tasty dishes go perfectly with a sip of Route 66 beer (or any local craft brand), some Prickly pear margaritas, Eegee's, or the legendary Tequila Sunrise. If you're not into alcohol, then go for any AriZona beverage.
Free time
Spas, golf, nature, and historic landmarks – spending quality leisure time is guaranteed in Arizona.
Sports
Arizona has several high-profile sports teams in baseball, basketball, and in the NFL. So, if you're a sports fan, then seeing the Arizona Diamondbacks, Phoenix Suns, and Arizona Cardinals can be a real treat.
Historic landmarks
Arizona has 45 notable historical landmarks that are a must for any history buff. As a part of the Wild West frontier and an arena for the conflicts between Mexico and the US, Arizona is not just the Grand Canyon. A small portion of these landmarks are:
San Xavier del Bac, Tucson
Hubbell Trading Post, Ganado
Tombstone Historical District, Tombstone
San Bernardino Ranch, Douglas
Fort Huachuca, Sierra Vista
Hoover Dam
Golfing
Golf is a religion in Arizona. And this religion has more than 200 shrines of different sizes and quality all over the state. Two of the best courses on the planet are there for you to enjoy this sport: Chiricahua in Scottsdale and Desert Forest Golf Club in Carefree.
Disadvantages of living in Arizona
Bustling Arizona has its fair share of disadvantages. Most of them are related to the weather or its geographical location.
Arizona is barren, especially in its southern part – most of the state is low desert, so expect plenty of cacti, lots of sand, and palm trees if you decide to purchase a residence in one of the cities. Most days, you will not see anything green outside the cities for as far as you can see.
The climate in Arizona is very hot and the heat can be devastating. Average temperatures in July and August are about 106 degrees Fahrenheit. You won't reach the 70s until you get to November most years. By the time you reach April, you're already averaging temperatures in the 80s once again. Four months' average temps above 100 each year. Also, don't expect a snowy winter, or any winter at all.
Arizona tends to lean toward conservative values from a political standpoint. It's somewhat moderate when dealing with labor unions and spirituality, but moves toward the conservative spectrum for spending, immigration, and law enforcement. Gun ownership is strong within the state.
Montgomery and Phoenix head to head
The easiest, most convenient way to compare two states is through their respective capitals. That way you'll see if moving from Alabama to Arizona is worth it.
The only two downsides for Phoenix are its slightly larger unemployment rate and the commute time (which is under the national average and is pretty good for a city of that size). Also, Phoenix has a better median income, lower median age, and cheaper healthcare.