Shipping a car from Massachusetts to Florida Guide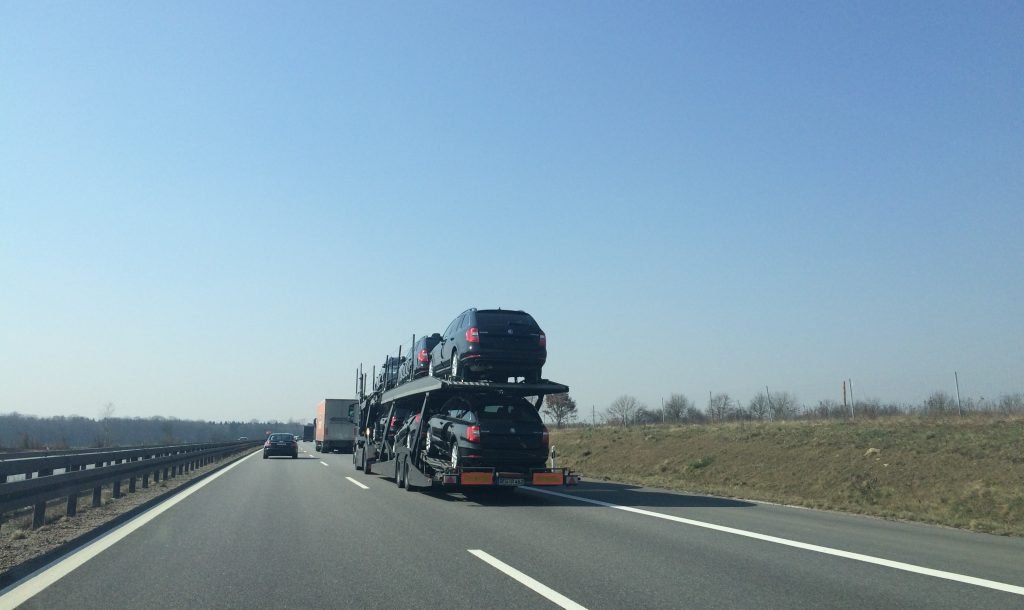 Shipping a car from Massachusetts to Florida is simple with the right help! Let Corsia Logistics transport your vehicle! Request your free, no-obligation quote today!
Shipping a car from Massachusetts to Florida shouldn't be a hassle, nor should it burn through your wallet. In this guide, we'll share our expertise on the basics of auto transport and the industry language. If you prefer a human touch, don't hesitate to call us. Our experienced logistics agents will be happy to walk you through the steps of the car shipping process and help you select services that work best for you and your vehicle.
What options do I have when shipping a car?
The answer would depend on your circumstances, personal preferences, and budget. But your main options boil down to:
Driving your car to its destination
Hiring a professional auto transporter to deliver your vehicle
Driving is a good, cost-effective option if the distance is not longer than 200-300 miles and you don't mind going on a short road trip. A journey longer than that may turn into quite a costly endeavor once you consider all trip-related expenses, factor in the cost of wear and tear on your car, and then add your most precious commodity to the equation – time. Do you actually have time for an untimely road adventure?
When you hire professionals to ship your car, you eliminate the road trip-related expenses and save time you would otherwise spend planning the trip and then driving your vehicle. After you and the shipper have agreed on a price and the terms of service, your car will be loaded on a vehicle carrier truck and delivered to a destination of your choice. Simple as that.
How to choose a car shipping company?
In your quest for an auto transport company, you'll get plenty of leads. It's important to do your due diligence and request a few car shipping quotes before you settle for the company.
Resist the temptation of making your decision based on price alone. Instead, look for the company that guarantees safe, on-time delivery, honest talk, and good communication throughout the process.
Check online reviews to learn about other customers' experiences, consult the FMCSA for the shipper's licensing and background information and safety ratings.
And last but not least, pick up the phone and call. Ask questions. Pick a company that resonates with you. Good shippers know that in business, as in life, Trust is a non-negotiable trait in building a successful relationship.
What services do auto transport companies offer?
You'll have a choice based on the level of protection you want for your vehicle, the delivery time-frame, and pick up/drop off locations. Corsia logistics offers the following services:
Open and enclosed carrier
Standard and expedited delivery
Open carriers are suitable for all types of vehicles, whether it's an everyday sedan or luxury automobile. However, owners of classic, luxury, and sports cars often choose in favor of enclosed auto transport. The fully covered carrier protects the car from destructive weather and road elements. Due to the extra layer of protection it offers, enclosed auto transport is a pricier option.
Whether you choose to ship your car on an open or enclosed carrier, you can request a top load placement for your vehicle.
When you choose standard delivery service, expect a carrier to pick up your vehicle within 5 business days. The transit time will depend mainly on distance. However, keep in mind that all dates and times are estimates. Carriers drive all over picking up and dropping off vehicles, hence delays may happen. It's important to stay in touch with your carrier at all times.
If you need your vehicle on or by a specified date and time, request expedited delivery. Carrier will rearrange the entire truck's itinerary around your schedule, which makes this service a pricier option.
If you are not sure which services to pick, do not hesitate to contact us. Our knowledgeable logistics experts will help you select options that work best for you and your car.
How much does it cost to ship a car?
When it comes to auto transport, going for the cheapest bid isn't always your best bet. Just like the most expensive quote won't guarantee the best quality of service. Request multiple shipping quotes and take some time to understand how vehicle shipping price is calculated.
There's a number of factors that affect the cost to ship a car. Vehicle make and model together with the distance set the base price for shipping. Then the choice of carrier type enters into the equation. Shipping a non-running car drives the price up due to additional equipment and driver's skill. Picking up and delivering a vehicle from and to a rural area is a logistical challenge that usually costs more. However, the deciding factor of all is the current supply and demand situation on a given route.
Corsia Logistics agents manually track daily supply and demand fluctuations, so we can offer you realistic rates, with the utmost transparency.
What documents do I need to ship my car?
Domestic auto transport is a simple endeavor. You or someone on your behalf will need to sign a Bill of Lading (BOL) at pick up and delivery. Bill of Lading is not only a receipt but also an inspection report. Hence, make sure to inspect your car thoroughly along with the carrier driver and note all the irregularities on the BOL. Never sign a blank or incomplete document, since it'll be your proof if you need to file a claim after the delivery has been completed.
Can I transport personal items in my car?
Although some carriers will allow you to load a box or suitcase in the trunk of your car, many prefer to transport empty vehicles. The DOT does not legally allow the transport of personal goods on auto carriers, which means the carrier's insurance won't cover losses or damages
Is my car insured during transport?
DOT requires all carriers to have cargo insurance which protects your vehicle against damages during loading, unloading, and transit and covers anything from theft, dents, and scratches to a total loss of a car. Liability limits, though, will vary from carrier to carrier.
Moving from Massachusetts to the Sunshine State
Originally inhabited by Wampanoag, Narragansett, Nipmuc, Pocomtuc, Mahican, and Massachusett tribes, Massachusetts is the most populous state in New England. Named after the Massachusett tribe that used to live in the east side of the region, its official name is the Commonwealth of Massachusetts. Boston is the capital of Massachusetts and at the same time, the most populous city in the entire region of New England. During the last decades, there has been a constant increase of people, many of whom are snowbirds, moving from Massachusetts to the state of Florida — the 8th most densely populated state in the US.
Compared to Massachusetts' humid continental climate with cold winters and warm summers, Florida generally has a subtropical climate with mild winters and hot and humid summers. If you move to Southern Florida, you will experience a tropical climate. Even though snowfall won't be "chasing" you to the Sunshine State, Florida, just like Massachusetts, is prone to hurricanes and tropical storms.
Housing and living costs
Depending on where in Massachusetts live and where in Florida you are planning to move, the housing and living costs may vary. If you'll be relocating from Boston to Orlando for example, you're in luck!  Living costs in Orlando are 43% less expensive than in Boston, while the median home cost is 61% less expensive. If you move to Tallahassee, your cost of living will drop by over 44% compared to Boston, while housing costs will be up to 70% less expensive. Unlike Massachusetts, the state of Florida doesn't have a state income tax.
Here are the median home prices in some of the best cities in Florida: Pensacola ($136,300), Jacksonville ($154,700), Tallahassee ($168,800), Orlando ($171,000), Clearwater ($208,400), St. Petersburg ($185,000), Tampa ($187,400), Fort Myers ($204,100), Sarasota ($272,800), Fort Lauderdale ($289,300), and Miami ($303,000).
Economy and employment
A report by the U.S. Bureau of Economic Analysis indicated that the economy of Florida reached the sum of $996.3 billion during the first quarter of 2018. According to the Florida Chamber Foundation, the state of Florida managed to reach a Gross Domestic Product (GDP) of over $1 trillion in mid-July 2018. If the state of Florida were an independent country, it would rank as the 17th largest economy in the world.
"Becoming a $1 trillion economy means Florida is continuing to grow and create jobs, keeping unemployment lower than the national average, and creating economic opportunity," according to Dr. Jerry Parrish, Florida Chamber Foundation Chief Economist. "Thanks to the focus of Florida's business community and strong leadership from the Governor, Cabinet and legislature, Florida continues to move in the right direction," Dr. Parrish added.
In comparison to Massachusetts, which is one of the leaders in biotechnology, engineering, higher education, finance, and maritime trade worldwide, Florida's economy is mainly based on trade, financial services, manufacturing, construction, transportation services, and tourism.
Things to see and do in Florida
Have you ever been The Universal Orlando, Duval Street, Mallory Square, Giraffe Ranch, Epcot Theme Park, Florida Keys, Disney's Animal Kingdom, Disney's Hollywood Studios, South Beach, SeaWorld Orlando, Sanibel Island, Magic Kingdom, or the Everglades National Park? If not, we highly recommend you pay a visit to all these places.
You can also add a few historical sites such as Fort Jefferson, Mary Bethune Home, Naples Historical Society's Historic Palm Cottage, and Harry S. Truman Little White House to your list. Florida is a great place to practice outdoor activities as well, so pick the best outfit for any activity you like, and enjoy this beautiful state to the fullest.
Moving to Florida with a car
As soon as you move to the Land of Flowers, you will have 30 days to register and title your vehicle. Just make sure you read about all the documents you need to prepare in advance, to make the registering process easier. Check out the official site of Florida DHSMV for more info.