Shipping a Car from Boston to Miami
Shipping a car from Boston to Miami is easy. In this guide we share our expertise and answer major questions. Our experienced logistics consultants will walk you through the steps of shipping a car, and help you select a service. Learn how auto transport works now.
Review our guide and contact us with questions. Request a quote online or call!
How much does it cost to ship a car from Boston to Miami?
Several variables decide the final cost of shipping a vehicle. Vehicle make and model, and the distance set the base price. Then the choice of carrier is added to the equation. Shipping a non-running car drives the price up due to additional equipment. Picking up and delivering a vehicle to and from a rural area adds to the price as well. Yet, the deciding factor is supply and demand situation.
We track market fluctuations manually and quote realistic current market prices that will ship your vehicle in a professional and timely fashion. Learn more about the factors that affect the cost to ship a car anywhere in the country.
What types of services does an auto transport company offer?
In general, you'll have a choice based on the type of carrier and on the time frame of delivery. Corsia Logistics provides the following car shipping services:
by carrier type: open and enclosed trailer
by time frame: standard and expedited delivery
Your choice of carrier type should really be influenced by the type of vehicle you need to ship. Standard everyday sedans, such as your Honda Civic or Toyota Corolla usually go onto an open-air trailer. If you need to ship a high-end sports or luxury automobile, or any classic vehicle you should choose enclosed trailer. Enclosed auto transport offers complete protection from weather and road elements.
A standard car shipping service usually means that a carrier will pick up your vehicle within one to few days. Delivery, in this case, from Boston to Miami would be 1-3 days. However, please keep in mind that all dates and times are only estimates. Carriers are picking up and dropping off shipments, hence, delays may happen, due to weather, traffic, or other customers' postponements.
Expedited delivery could guarantee that your car is picked up or delivered on or by a specified date and time. This, however, requires the whole schedule of the truck to play around your schedule, which naturally increases the price.
What documents do I need when shipping a car?
Domestic transport is easy and simple. You or someone on your behalf needs to release the vehicle to the carrier at pick-up. The person at pick-up will also need to sign a Bill of Lading (BOL). The BOL is not only a receipt but also an inspection report. When the carrier inspects the car you need to check with him that all existing damages are marked down before you sign the inspection report. Never sign a blank or incomplete document and don't forget to get your copy before the driver leaves the site.
Types of transport carriers Corsia offers
Generally, you have to choose based on the type of auto transport carrier and also on the time frame of delivery. You can choose between open and enclosed auto transport trailers. Corsia Logistics offers both open and enclosed service. Whether you choose one or the other will affect the price and sometimes the time it takes to deliver the vehicle.
Enclosed auto transport is recommended for sports, luxury and classic automobiles. It offers extra protection from weather and road elements. Better protection means a more expensive service. But we will let you in on a little secret. Sometimes, due to last minute cancellations, or supply/demand fluctuations, you can end up paying the price of an open carrier, but get enclosed trailer instead. Call us now to discuss your options.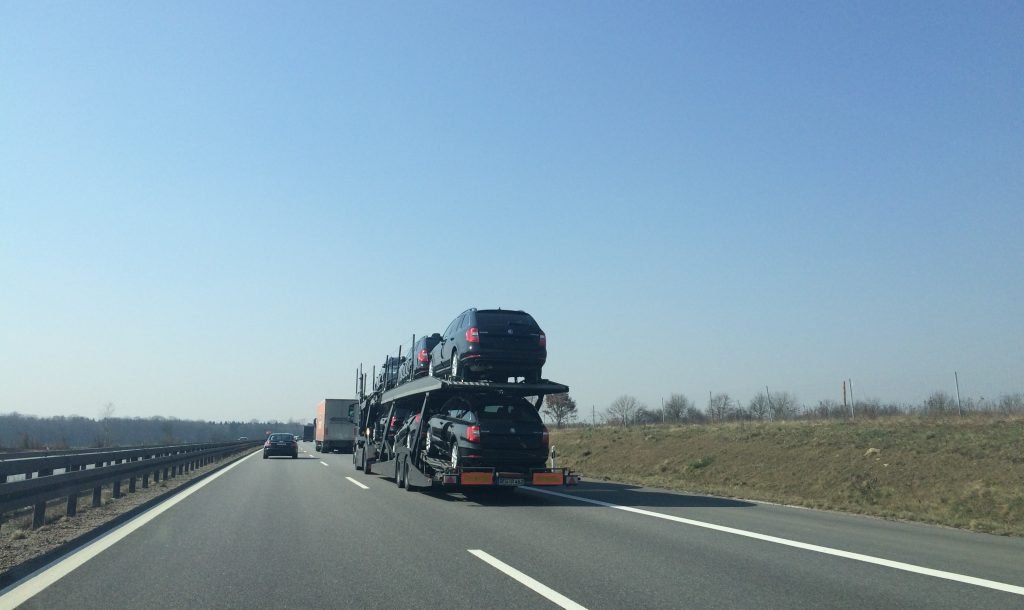 Open auto transport is the most popular method of shipping all types of vehicles. You can see open carrier trucks transporting brand new automobiles across the country on daily basis. They carry anywhere from seven to ten automobiles. They are the standard service, the most widely available and affordable. Some smaller open car carriers are requested for shorter distances or faster service.
Piece of Advice for Peace of Mind
Driving from Boston to Miami means embarking on a long distance trip that will take at least a couple of days. Driving could be quite stressful and exhausting, even more if you don't have the skills and the desire. Shipping a car from Boston to Florida could cost anywhere from $750 to over $1000 depending on all the factors we discussed above. Our transport carriers run to Florida daily. Choose peace of mind. Call us now to discuss your shipment.
Moving from Boston to the Little Cuba
If you ask retirees, they move because of the year around warm weather and relatively less expensive properties. In fact, retirees, also called snowbirds, flock to Florida in the thousands every winter. And many choose to stay and make it their permanent home. We speak from experience since shipping cars from Massachusetts to Florida is what we do year around.
Thousands of young people also choose Florida, in particular Miami, to make their new home. Florida is a good place to start a business as well as kick start a carrier. The state economy has been slowly improving and attracting people from across the country. If Florida sounds like a nice place to call home, we encourage you to research career or business opportunities and really consider Florida.
Where better to move to if not to vibrant and colorful Miami?
Like Boston, Miami also is a melting cultural hub where besides Spanish and English, you will hear over 80 different languages from all over the world. This major port city is also the seventh-most populous in the US with a population of over 2.7 million people.
Miami offers a laid-back lifestyle that is way more relaxed compared to the fast-paced Boston lifestyle. Its cuisine is delicious, its beaches are breathtaking, and its weather is something you will get used to sooner than you expect. Compared to Boston's humid continental climate with freezing and snowy winters, Miami offers a year-round tropical weather.
Economy and Employment
The Port of Miami these past two decades has been called the "Cruise Capital of the World" since it is the busiest US port for both passenger and cruise lines. The economy of Miami is one of the richest in the US, especially because the city is an important center of culture, arts, media, and the entertainment industry.
Miami's economy is mainly fueled by commerce, finance, international trade, and tourism. The Metropolitan Miami ranks second in the US for its developed tourism. Downtown Miami has the largest concentration of international banks in the US and a great number of national and international companies that are ranked as some of the largest in the nation.
Ever dreamed about working for Telemundo, Univision, American Airlines, Cisco, Disney, Exxon, FedEx, LEO Pharma Americas, Microsoft, Yahoo, Oracle, or Sony? You can apply in any of them if you still haven't found a job.
Housing and Living Cost
Neighborhoods in the city with the third tallest skyline in the United States differ a lot from one another. We always recommend you to do your own research before picking the one that best fits your lifestyle because all of them are unique on their own. Miami has 25 neighborhoods and 40 "sub-neighborhoods", so it might get hard to pick the right one without reading about them, researching, and asking around for any suggestions.
Even though Miami is the 8th most expensive city to rent in the US, the living and housing costs in Miami are much lower compared to Boston. According to Best Places, the living costs overall are 32.5% cheaper than in Boston, while the Median Home Cost is 44% cheaper.
Things to see and do in Miami
 What can you possibly do in a charming city surrounded by palm trees and sunny beaches? Well, anything! Among our top recommendations to visit in Miami, are Vizcaya Museum and Gardens, Miami Seaquarium, Bayside Marketplace, Jungle Island, Collins Avenue, Patricia and Phillip Frost Museum of Science, Dolphin Mall, Virginia Key, and the Freedom Tower. There are also more than 800 parks in Miami that are perfect to go for a run, walk your dog, go picnicking with your friends, and so on.
Moving to Miami with a car
Once you establish your move in this full-of-life city, you will have up to 30 days to register and title your car with your local Department of Highway Safety and Motor Vehicles. Keep in mind that you will have to register and title your car at the same time in order to legally drive it.
When you contact our team we will answer all of your auto transport questions and walk you through each step of the shipping process. If you have recently purchased a vehicle or a motorcycle online, from eBay or from a dealer in Florida, we can help you transport it safely. Corsia Logistics is a reliable auto transport company, check our reviews online and call with questions.