How much does it cost to ship a car from Boston to Florida?
Several variables control the cost to ship a car from Boston to Florida. Vehicle make and model, together with the distance set the base price for shipping. Then the choice of carrier type enters the equation.
Shipping a non-running car drives the price up due to additional equipment. Remote areas of the country also cost more. However, current supply and demand decides the final price.
Request your Boston to Florida quote now

We quote current market prices to ship a car now.
Corsia rep (Elena) was very proactive. Helped ship a car from CA to GA. She checked in with me via email quote and several phone calls to find me the best possible quote for the fastest available service. After several communications, Corsia was able to schedule a vehicle pickup the next day. The driver communicated well, and the vehicle arrived in final destination faster than we expected in perfect condition. I highly recommend using Corsia's reliable, efficient service.
Thanks, Corsia! Pickup was so clean, efficient, and wonderful -- my only recommendation is to make sure you schedule it during the day so you can fully review the car in the daylight. Drop off was equally wonderful, and the whole trip went down without a hitch (pun intended!). Seriously, Corsia delivered my Jeep from CT to California with no issues or bumps in the road!
High five's all around! Corsia was highly recommended by a friend in the automobile industry. We needed to transport a cargo van from Seattle to Florida. We contacted Corsia who quickly arranged transport within just a few days. Communication was outstanding! Just a few email confirmations and we were all set. Mike was great and arrived right on time and delivered to Florida on schedule. Tip-avoid the hornets nest of auto brokers on line and just contact Corsia for a truly great experience!
Corsia Memphis to LA, mid-size SUV. I looked at 4 different companies amd Corsia was the most responsive of them. While being responsive, they were not unduly aggressive: when I indicated that I need to wait a month before making a decision they stopped contacting me and only came back with a reminder when I really needed it. Once I decided to engage Corsia they found me a transport within two days and the car was delivered (from Memphis to LA) in another two days. I had a truly positive experience.
Working with Corsia Logistics was a great experience. Working with Corsia Logistics was wonderful. They were able to find a driver right away to transport our car. They were in constant communication as to when the car was getting picked up and dropped off. The driver also communicated with me as to when he would arrive. I would highly recommend Corsia Logistics.
Excellent Organization Corsia was an excellent company to work with while I transferred my car across the US. A friend of mine suggested I use them as they had been very organized and trustworthy with her own car. I researched a few different place but decided to go with Corsia and I'm so glad I did! Any questions I had throughout the process they answered quickly and clearly. I would definitely use them again in the future and recommend them for others to use.
Looking for a logistics company, to ship my car, from California to Illinois,my first search, then Corsia showed up, skeptical. Call and a very friendly secretary: Elena. She guided me through, I scheduled and as she explained, all when smooth as scheduled Very happy I did the right choice. I'll recommend this great Company to anyone that is thinking to relocate a vehicle. Thanks Corsia logistics for your honesty and professionalism!
Top notch Transport - Porsche 997 Top notch! As easy and efficient as one could possibly imagine. Great customer service.. thank you Luke. Great prices. Check. Timely communications. Check. Clean transport trailer. Check. Supremely careful driver. Check. Timely arrival. Check. Don't mess around elsewhere, just call Corsica and feel confident your transports needs are going to be exceeded. My Porsche 911 rode like a Queen in her enclosed chariot. I've never needed a transport company before, and I surely will use them every time. Do yourself a favor, seriously. Call now.
Corsia has been amazing. Their prices are really competitive but more importantly their customer service has been 5-Star. Elena followed up with me every step of the way, making sure there was no miscommunication between me & the driver. We are using them to ship a 2nd vehicle & would not hesitate to use them again!
I have recently used Corsia for long time family car with sentimental value that was moved I have recently used Corsia for shipment of my vehicle from Oregon to Arizona by recommendation from other family member who also used Corsia in the past. I am very pleased on the service and the communication throughout shipment. Ken was my direct contact and kept me informed along the move The car was picked up and delivered as communicated. I did use a enclosed mover and the driver was also clean cut professional and treated car as his own. I would definitely recommend Corsia again with the experience I have had. Thank you. T
How long does it take to ship a car from Boston to Florida?
Shipping a car from Boston to Florida does not present any specific challenges, unless it is the Key West. Shipping from is between 3 and 5 days. Various factors could affect the shipping times and this means that shipping time is always an estimate!
Open auto transport is usually faster due to high availability. Talk to our team now.
Florida Auto Transport Services
Corsia provides the following car shipping services:
by carrier type: open and enclosed trailer
by time frame: standard and expedited delivery
Choosing a carrier type really depends on the type of vehicle you need to ship. Standard everyday sedans, such as your Honda Civic or Toyota Corolla usually go on an open car carrier.
If you need to ship a sports or luxury automobile, or any classic vehicle you should choose enclosed auto transport.
Standard car shipping means that a carrier will pick up your vehicle within few days.
Expedited delivery could guarantee that your car is picked up or delivered on or by a specified date and time.
Open auto transport is the standard solution. It is faster and cheaper. Open carriers are readily available and this makes them efficient and preferred by private customers and businesses alike.
Enclosed auto transport is a preferred solution for sports and high-end automobiles. It offers complete protection from weather and road elements. However, it could take a bit longer to book and schedule. It is more expensive as well.
What documents do I need when shipping a car to Florida?
When shipping a car from Boston to Florida you or someone on your behalf  – a designated agent – must release the vehicle to the carrier at pick-up.
The person at pick-up will also need to sign a Bill of Lading (BOL). The BOL is a receipt and an inspection report. When the carrier inspects the car you need to check with that all existing damages are marked before you sign. Never sign a blank or incomplete document.
Moving to the Sunshine State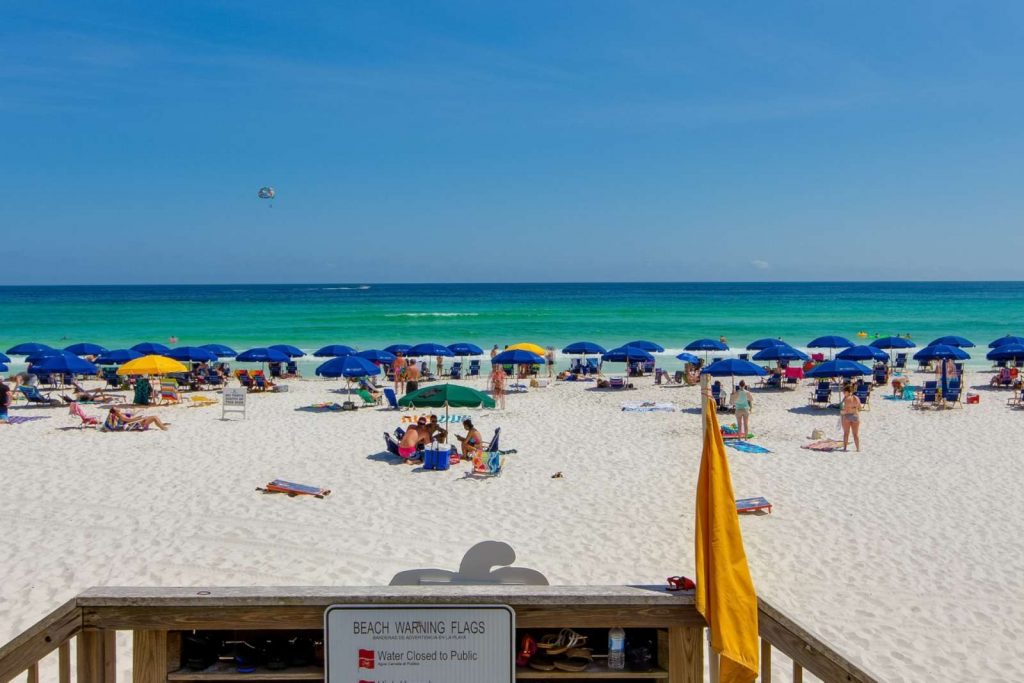 Now it is time to get excited about the weather! Literally and sarcastically. You will experience summer temperatures in the 80s and 90s on a daily basis. But you will also enjoy New Year's Eve in shorts and T-shirt!
If you are moving to Florida just for the heat and the sun, you might as well think twice. Sunny as we know it, Florida is also the capital of lightnings and storms.
The state is also famous for the hurricanes that regularly hit the peninsula. Hurricanes to Florida are like earthquakes to California now. The areas most likely to endure a hurricane are the southern tip, the east coast and the gulf coast along the panhandle. Funny fact is that Disney World has never been a target for hurricanes. Miracle indeed?
Not to make it too traumatic, but let's not forget humidity as well. On most days, the humidity adds around 5 to 10 degrees to the heat. So, get used to fluffy hair before your arrival to the Sunny state.
Meet the Floridians
In the past couple of years weather conditions triggered reactions from politicians in the state as well. They claim that South Florida experienced harsher climate change and sea-level issues than the north part of the states. The unfair advantage of the north makes it hard for the whole state to get support. This is why the mayor of Miami proposed a resolution to split the state in two. Might sound crazy to some, but to others this is not news at all.
People who have visited Florida confirm that there are differences in the atmosphere in the two regions, too. Usually, the panhandle is considered socially conservative and more economically disadvantaged. The northwest Florida's economy depends primarily on military bases, beach tourism, agriculture and fishing.
By contrast, central and southern Florida has theme parks, NASA and a very strong defense contracting industry. Naturally, this defines the diversity in people, too. Their mentality and attitude towards life is rather different, so make sure you do your research in advance. Visit the two Floridas, meet locals and get a feel of the environment before you settle down
The Sunshine State was also named the Land of Flowers by Spanish explorer Juan Ponce de León in 1513. The state continues to attract new inhabitants every day thanks to its great weather, low housing costs, zero state income tax, rich cultural scene, and the longest in the nation picture-perfect coastline (over 1300 miles).
Despite the hurricanes and high humidity, the population of Florida continues to grow. With almost 21 million inhabitants, the state is currently the third most populous in the nation. Compared to Boston's humid continental climate with freezing winters, especially during the month of January, Florida's climate is mostly subtropical with lots of hurricanes that occur throughout the state.
Most parts of the state have a mild weather during the winter, and its summers are usually hot and humid. Its northern part experiences a subtropical climate, while tropical weather reigns in the southern part of the state.
Housing and Living Costs
They say South Florida and North Florida differ so much, be it in climate, culture, nightlife, atmosphere, it feels like they are not part of the same state. That is why you should do your research first and pick one side before you decide whether you should buy or rent once you move there.
If you move to Florida's capital Tallahassee, for example, expect the cost of living prices to drop by more than 44% compared to Boston.
Economy and Employment
According to a report by the Bureau of Economic Analysis on March 2018, Florida had a GDP of $967.3 billion in 2017, ranking in the fourth position in the US. The state's economy is mainly fueled by trade, financial services, manufacturing, construction, and transportation services. Its tourism keeps thriving and contributing to the economy and is also mixing Florida's culture even more.
Job opportunities in the Sunshine State are also abundant, with open job positions in various industries. In 2011, the state was named the third best state for business in the US. So if you plan to open your own business and be your own boss, Florida is one of the ideal states to do so.
Things to Do in Florida
Life in Florida is so much more than just living by the beach and practicing your swimming and surfing skills. Even though the state is the lowest highest point in the US, it still offers great hiking opportunities, and other outdoor activities such as fishing, kayaking, paddle boarding, bicycling, and many more.
As a golf state, it offers golf lovers the terrain they need to practice their favorite sport as well. Universal Orlando, Florida Keys, South Beach, Magic Kingdom, Everglades National Park, Disney's Animal Kingdom, and Disney's Hollywood Studios are just a few things you need to add and hopefully cross off your bucket list as soon as you possibly can.
Moving to Florida with a car
Since Florida is too spread out, getting around in the Land of Flowers would be too hard without a car. Therefore, if you are moving there with your car, you will automatically make your life easier and save yourself the stress.
Once you establish your move in this exciting and full-of-life state, you will have up to 30 days to register and title your car with your local DHSMV. Keep in mind that you will have to register and title your car at the same time in order to legally drive it. If you need more info on the documents you need to prepare, make sure you read all the specific details about car registration in advance.
For all auto transport related questions talk to us now.
Our dedicated team of professional logistics experts will answer all of your questions and help you choose the best solution.