Moving to the Sunshine State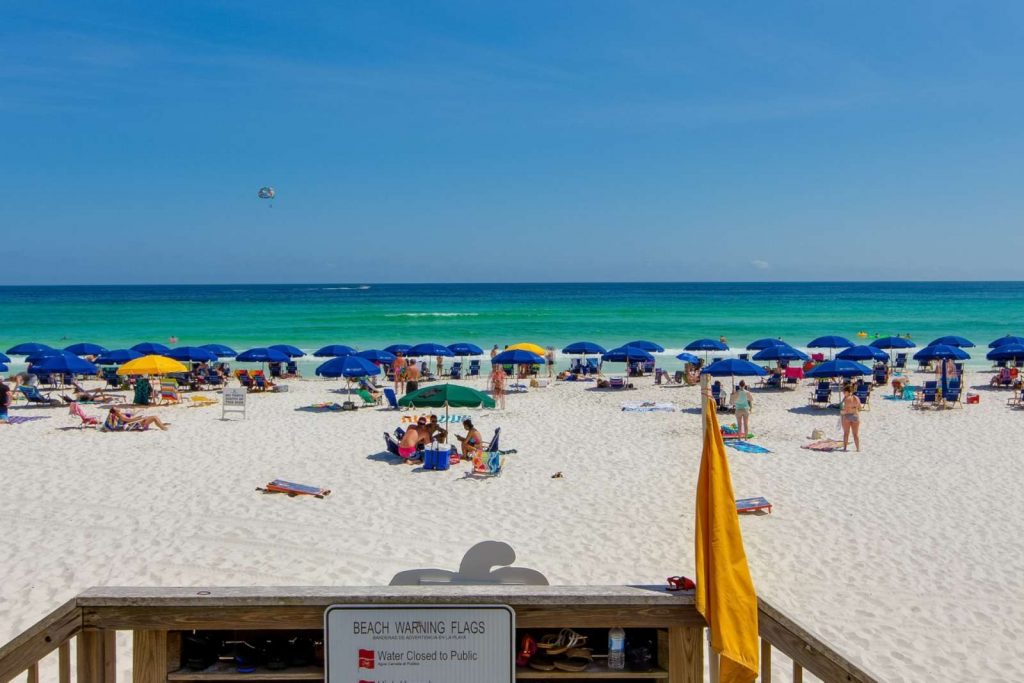 Get excited about the weather. Literally and sarcastically. You will experience summer temperatures in the 80-90s on a daily basis. But you will also enjoy New Year's Eve in shorts and T-shirt.
If you are moving to Florida just for the heat and the sun, you might as well think twice. Sunny as we know it, Florida is also the capital of lightnings and storms.
The state is also famous for the hurricanes that regularly hit the peninsula. Hurricanes to Florida are like earthquakes to California now. The areas most likely to endure a hurricane are the southern tip, the east coast and the gulf coast along the panhandle. Funny fact is that Disney World has never been a target for hurricanes. Miracle indeed?
Not to make it too traumatic, but let's not forget humidity as well. On most days, the humidity adds around 5 to 10 degrees to the heat. So, get used to fluffy hair before your arrival to the Sunny state.
Meet the Floridians
In the past couple of years weather conditions triggered reactions from politicians in the state as well. They claim that South Florida experienced harsher climate change and sea-level issues than the north part of the states. The unfair advantage of the north makes it hard for the whole state to get support. This is why the mayor of Miami proposed a resolution to split the state in two. Might sound crazy to some, but to others this is not news at all.
People who have visited Florida confirm that there are differences in the atmosphere in the two regions, too. Usually, the panhandle is considered socially conservative and more economically disadvantaged. The northwest Florida's economy depends primarily on military bases, beach tourism, agriculture and fishing.
By contrast, central and southern Florida has theme parks, NASA and a very strong defense contracting industry. Naturally, this defines the diversity in people, too. Their mentality and attitude towards life is rather different, so make sure you do your research in advance. Visit the two Floridas, meet locals and get a feel of the environment before you settle down
The Sunshine State was also named the Land of Flowers by Spanish explorer Juan Ponce de León in 1513. The state continues to attract new inhabitants every day thanks to its great weather, low housing costs, zero state income tax, rich cultural scene, and the longest in the nation picture-perfect coastline (over 1300 miles).
Despite the hurricanes and high humidity, the population of Florida continues to grow. With almost 21 million inhabitants, the state is currently the third most populous in the nation. Compared to Boston's humid continental climate with freezing winters, especially during the month of January, Florida's climate is mostly subtropical with lots of hurricanes that occur throughout the state.
Most parts of the state have a mild weather during the winter, and its summers are usually hot and humid. Its northern part experiences a subtropical climate, while tropical weather reigns in the southern part of the state.
Housing and Living Costs
They say South Florida and North Florida differ so much, be it in climate, culture, nightlife, atmosphere, it feels like they are not part of the same state. That is why you should do your research first and pick one side before you decide whether you should buy or rent once you move there.
If you move to Florida's capital Tallahassee, for example, expect the cost of living prices to drop by more than 44% compared to Boston.
Economy and Employment
According to a report by the Bureau of Economic Analysis on March 2018, Florida had a GDP of $967.3 billion in 2017, ranking in the fourth position in the US. The state's economy is mainly fueled by trade, financial services, manufacturing, construction, and transportation services. Its tourism keeps thriving and contributing to the economy and is also mixing Florida's culture even more.
Job opportunities in the Sunshine State are also abundant, with open job positions in various industries. In 2011, the state was named the third best state for business in the US. So if you plan to open your own business and be your own boss, Florida is one of the ideal states to do so.
Things to Do in Florida
Life in Florida is so much more than just living by the beach and practicing your swimming and surfing skills. Even though the state is the lowest highest point in the US, it still offers great hiking opportunities, and other outdoor activities such as fishing, kayaking, paddle boarding, bicycling, and many more.
As a golf state, it offers golf lovers the terrain they need to practice their favorite sport as well. Universal Orlando, Florida Keys, South Beach, Magic Kingdom, Everglades National Park, Disney's Animal Kingdom, and Disney's Hollywood Studios are just a few things you need to add and hopefully cross off your bucket list as soon as you possibly can.
Moving to Florida with a car
Since Florida is too spread out, getting around in the Land of Flowers would be too hard without a car. Therefore, if you are moving there with your car, you will automatically make your life easier and save yourself the stress.
Once you establish your move in this exciting and full-of-life state, you will have up to 30 days to register and title your car with your local DHSMV. Keep in mind that you will have to register and title your car at the same time in order to legally drive it. If you need more info on the documents you need to prepare, make sure you read all the specific details about car registration in advance.