How much does it cost to ship a car from Arizona to Oregon?

Several variables decide the final cost. Vehicle make and model, together with the distance set the base price for shipping. Then the choice of carrier type enters the equation. Shipping a non-running car drives the price up due to additional equipment. Remote areas of the country also cost more. However, current supply and demand decides the final price.
Request your Arizona to Oregon quote now
CORSIA is 5-star rated car shipping company.

We quote current market prices to ship a car now.
Corsia rep (Elena) was very proactive. Helped ship a car from CA to GA. She checked in with me via email quote and several phone calls to find me the best possible quote for the fastest available service. After several communications, Corsia was able to schedule a vehicle pickup the next day. The driver communicated well, and the vehicle arrived in final destination faster than we expected in perfect condition. I highly recommend using Corsia's reliable, efficient service.
Thanks, Corsia! Pickup was so clean, efficient, and wonderful -- my only recommendation is to make sure you schedule it during the day so you can fully review the car in the daylight. Drop off was equally wonderful, and the whole trip went down without a hitch (pun intended!). Seriously, Corsia delivered my Jeep from CT to California with no issues or bumps in the road!
High five's all around! Corsia was highly recommended by a friend in the automobile industry. We needed to transport a cargo van from Seattle to Florida. We contacted Corsia who quickly arranged transport within just a few days. Communication was outstanding! Just a few email confirmations and we were all set. Mike was great and arrived right on time and delivered to Florida on schedule. Tip-avoid the hornets nest of auto brokers on line and just contact Corsia for a truly great experience!
Corsia Memphis to LA, mid-size SUV. I looked at 4 different companies amd Corsia was the most responsive of them. While being responsive, they were not unduly aggressive: when I indicated that I need to wait a month before making a decision they stopped contacting me and only came back with a reminder when I really needed it. Once I decided to engage Corsia they found me a transport within two days and the car was delivered (from Memphis to LA) in another two days. I had a truly positive experience.
Working with Corsia Logistics was a great experience. Working with Corsia Logistics was wonderful. They were able to find a driver right away to transport our car. They were in constant communication as to when the car was getting picked up and dropped off. The driver also communicated with me as to when he would arrive. I would highly recommend Corsia Logistics.
Excellent Organization Corsia was an excellent company to work with while I transferred my car across the US. A friend of mine suggested I use them as they had been very organized and trustworthy with her own car. I researched a few different place but decided to go with Corsia and I'm so glad I did! Any questions I had throughout the process they answered quickly and clearly. I would definitely use them again in the future and recommend them for others to use.
Looking for a logistics company, to ship my car, from California to Illinois,my first search, then Corsia showed up, skeptical. Call and a very friendly secretary: Elena. She guided me through, I scheduled and as she explained, all when smooth as scheduled Very happy I did the right choice. I'll recommend this great Company to anyone that is thinking to relocate a vehicle. Thanks Corsia logistics for your honesty and professionalism!
Top notch Transport - Porsche 997 Top notch! As easy and efficient as one could possibly imagine. Great customer service.. thank you Luke. Great prices. Check. Timely communications. Check. Clean transport trailer. Check. Supremely careful driver. Check. Timely arrival. Check. Don't mess around elsewhere, just call Corsica and feel confident your transports needs are going to be exceeded. My Porsche 911 rode like a Queen in her enclosed chariot. I've never needed a transport company before, and I surely will use them every time. Do yourself a favor, seriously. Call now.
Corsia has been amazing. Their prices are really competitive but more importantly their customer service has been 5-Star. Elena followed up with me every step of the way, making sure there was no miscommunication between me & the driver. We are using them to ship a 2nd vehicle & would not hesitate to use them again!
I have recently used Corsia for long time family car with sentimental value that was moved I have recently used Corsia for shipment of my vehicle from Oregon to Arizona by recommendation from other family member who also used Corsia in the past. I am very pleased on the service and the communication throughout shipment. Ken was my direct contact and kept me informed along the move The car was picked up and delivered as communicated. I did use a enclosed mover and the driver was also clean cut professional and treated car as his own. I would definitely recommend Corsia again with the experience I have had. Thank you. T
How long does it take to ship a car from Arizona to Oregon?
Shipping a car from Arizona to Oregon takes about 7 to 10 days. Various factors could affect the shipping times and this means that shipping time is always an estimate. Open auto transport is usually faster and cheaper due to high availability.
What services does CORSIA offer?
Corsia Logistics provides the following car shipping services:
by carrier type: open and enclosed trailer
by time frame: standard and expedited delivery
Choosing a carrier type really depends on the type of vehicle you need to ship. Standard everyday sedans, such as your Honda Civic or Toyota Corolla usually go on an open-air trailer. If you need to ship a high-end sports or luxury automobile, or any classic vehicle you should choose enclosed trailer.
Standard car shipping means that a carrier will pick up your vehicle within few days. Delivery, in this case would be 7 to 10 days. Dates and times are only estimates.
Expedited delivery could guarantee that your car is picked up or delivered on or by a specified date and time.
Open auto transport is the standard solution. It is faster and cheaper. Open carriers are readily available and this makes them efficient and preferred by private customers and businesses alike.
Enclosed auto transport is a preferred solution for sports and high-end automobiles. It offers complete protection from weather and road elements. However, it could take a bit longer to book and schedule. It is more expensive as well.
What documents do I need when shipping a car?
Domestic transport is easy. When shipping a car from Arizona to Oregon, you or someone on your behalf must release the vehicle to the carrier at pick-up.
The person at pick-up will also need to sign a Bill of Lading (BOL). The BOL is a receipt and an inspection report. When the carrier inspects the car you need to check with that all existing damages are marked before you sign. Never sign a blank or incomplete document.
Moving to the Beaver State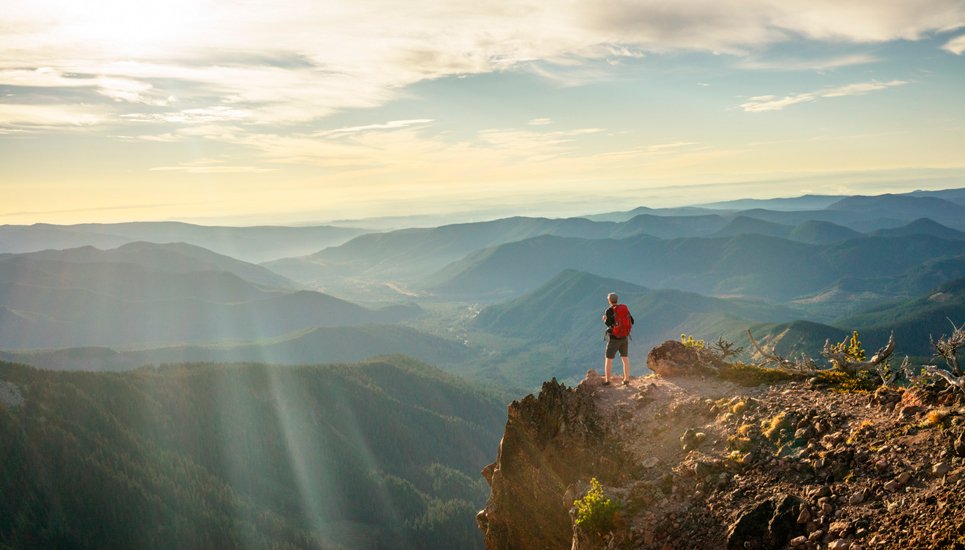 After hitting the 4 million mark in 2016, Oregon's population has continued to grow in the past two years for many different reasons. This beautiful state on the West Coast offers miles and miles of exquisite coastlines combined with breathtaking mountains and a wonderful climate that lets you enjoy life by the sea or up in the mountains. Whichever you prefer.
They say it rains a lot in Oregon, so as someone moving from Arizona, you must prepare yourself for a humid climate, especially during winter. Compared to Arizona's desert climate with mild winters and hot summers as well as snowy winters in the Northern part, Oregon, in general, has a mild climate.
Depending on where in Oregon you will be moving, you should know that temperatures vary a lot within the state. Its western part has an oceanic climate, its southwestern has a Mediterranean climate, while its northeastern one has steppe climate. The eastern parts of the state that are mainly made of deserts have cold and snowy winters with dry summers. The summer temperatures in Oregon are generally cool, ranking the state in the fifth position for coolest summer temperatures in the US, after Maine, Idaho, Wyoming, and Alaska.
The Beaver State, the ninth largest state in the US and the 27th most populous one, continues to be among the three most popular states to relocate to after Arizona and Nevada.
Economy and employment
The state's economy is mainly powered by agriculture and industry. Hydroelectric power, fishing, timber industry, and technology (thanks to the Silicon Forest), are also some important economic pillars. Oregon is home to Nike, Precision Castparts, FLIR Systems, StanCorp Financial Group, Schnitzer Steel Industries, Portland General Electric, Columbia Sportswear, and Northwest Natural Gas, which are are some of the largest public corporations with their headquarters in Oregon.
In 2017, the state had a GDP of $236.2 billion, the 24th largest in the nations. As per employment, the state offers plenty of job opportunities in various areas in the above-mentioned companies and many others.
Housing and Living Costs
Out of 36 counties and a mix of metropolitan areas that differ a lot from one another, one thing is guaranteed: you will have to pick carefully your new city once you decide to move to Oregon. Among the best cities to move to in this clean and friendly state are Portland, Salem, Bend, Eugene, Milwaukie, Ashland, West Slope, and Raleigh Hills.
Compared to Arizona, the living costs and housing in Oregon are more expensive in general. Portland, for example, is 41% more expensive than Phoenix with median home costs that can go up to 99% more expensive. If you want to opt for a less expensive place to live, Salem is also a good idea. Compared to Phoenix, Salem is 9% more expensive and median home costs are only 8% more expensive. Even though the cost of living is above the national average, Oregon doesn't have a sales tax and living in one of Oregon's cities is hopefully going to change your life for the better.
Oregon activities and top sights
Living in one of the most geographically diverse states in the US is perfect for activities like hiking, bicycling, rafting, kayaking, canoeing, and any other activities you enjoy. We recommend you to visit the highest point of Oregon, Mount Hood at 11,249 feet, Crater Lake National Park, which is the only national park in the state Oregon, as well as Crater Lake — the deepest lake in the US.
Its Pacific scenery, the Malheur National Forest, and a variety of volcanoes are also a must see. Make sure you go to at least one wine or beer tours and tastings while you are there. You won't regret it!
Moving to Oregon with a car
Once you qualify as a resident of the Beaver State, you will have 30 days to register and title your car. Keep in mind that there is a mandatory auto insurance law in Oregon and in order to register your car, you will need to pass a VIN inspection when you visit your local DMV office. Before arriving in Oregon, we advise you to learn more about car registration and Oregon driver's license requirements.
For all auto transport related questions talk to us now.
Our dedicated team of professional logistics experts will answer all of your questions and help you choose the best solution.