Goodbye Arizona
Arizona is a sunny state with a unique natural environment that people often overlook. It is considered a place to hike, golf, and visit the Grand Canyon. But there are so many other things to do in Arizona.
Arizona's economy is growing
The GDP in 2020 will reach an impressive $320.66 billion. Most jobs are in the healthcare, transportation and public sectors. This does not mean that the economy is not diversified. In recent years, Phoenix has won the reputation of "Entrepreneur's Dream City".
Phoenix is ​​a vibrant start-up city and a home to the Center for Entrepreneurship and Innovation – an incubator that contributes to the city's economic vitality by creating small business jobs. Co-working spaces are scattered across Phoenix Valley, where the spirit of growth has always been active.
Education
Higher education is represented by Arizona State University, one of the largest public universities in Arizona. ASU is a member of the University Research Association and is classified as "R1: Doctoral University – High Research Activity". Arizona State University has nearly 150,000 students!
Culture
Phoenix is ​​a city of arts, with venues and cultural institutions such as the Phoenix Symphony Orchestra, Arizona Opera House, Arizona Ballet, and more. The museum landscape is rich and includes the Phoenix Art Museum, Arizona State Capitol Museum, Scottsdale Museum of Contemporary Art, Arizona Military Museum, and many recently opened art galleries.
Disadvantages
Like everywhere else, Arizona and Phoenix have some downsides that you need to be aware of.
– Desert – really beautiful, but it's the source of allergies and sandstorms. Not to mention all the heat.
– The economy is growing, but wages are still low.
– The whole state is more conservative.
– The laws related to spending, immigration, law enforcement and gun ownership are very strict.
Welcome to Florida!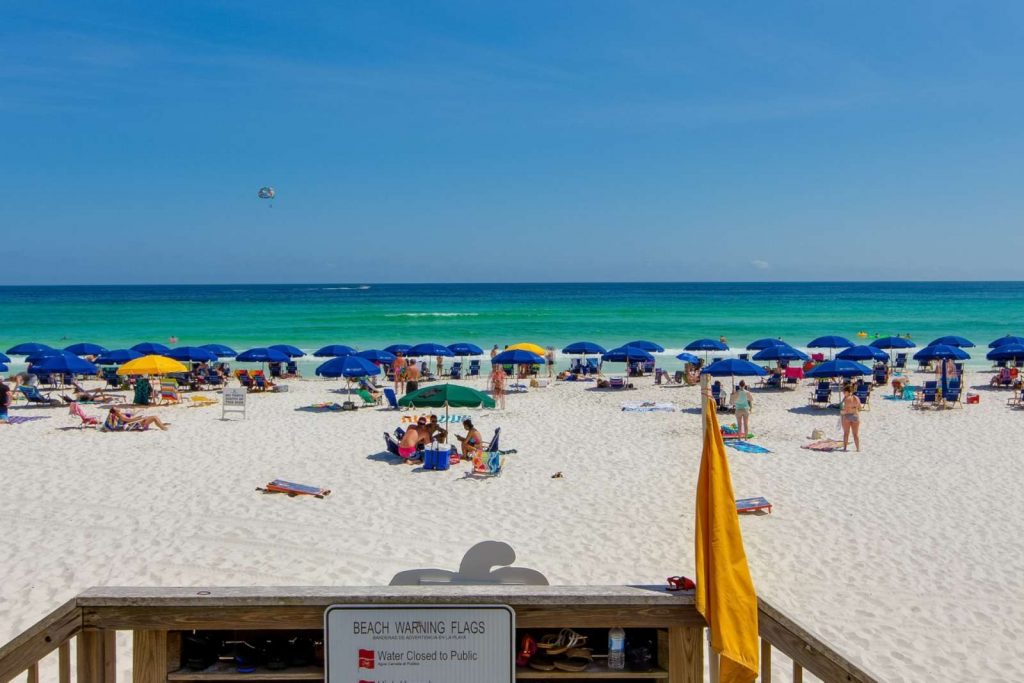 Florida has the longest coastline in the U.S., endless beaches, attractive and loud parties and quiet retreats. All to attract and appeal to everyone from teenagers to grandparents.
But Florida isn't just about tropical climates, parties, celebrities and hotshots. As mentioned above – Florida has a large population.
The state capital is Tallahassee, the largest city is Jacksonville, but the largest metropolitan area is Greater Miami. So, the country has many attractions.
Economy is going strong
With a population of 21 million, the state has an estimated $1 trillion economy, the fourth largest in the United States. The largest employment sectors are trade, transportation and utilities; government; professional and business services; education and health services; and leisure and hospitality. Many coastal cities are among the richest per capita in the United States.
Tourism is big
We could write tomes about what to do in Florida. The tourism industry employs more than 1.4 million people. In addition to countless beaches, Florida is home to several great amusement parks such as Walt Disney World, Universal Orlando, SeaWorld Orlando, Busch Gardens Tampa Bay, water parks, and golf courses.
Kennedy Space Center
Also known as the NASA Launch Operations Center, it is one of the most important launch centers for human spaceflight. This was the launch site for the Apollo, Skylab, and Space Shuttle programs, adjacent to the Cape Canaveral Space Force Station. With more than 700 facilities, the Kennedy Space Center brings together aerospace professionals from around the world!
Education
There are twelve universities in Florida, four of which have more than 50,000 students. They are University of Central Florida, Florida International University, University of Florida and University of South Florida.
Sports
As you might expect – the entertainment scene is plentiful, and that includes sports. The state is home to three NFL teams, two NBA teams, two MLS teams and two MLB teams. NASCAR is headquartered in Daytona Beach and the PGA of America is headquartered in Palm Beach.
Disadvantages ..
While Florida has all its advantages, there are some serious disadvantages you should consider before moving there.
Hurricanes and extreme heat and humidity can have an impact. The state is extremely flat and lacks mountains and valleys. There are more tourists and part-time residents than other states. You pay more for insurance than the rest of the country. Florida has bigger bugs and lots of snakes and alligators.
Florida's driving test
Florida's driving test has eliminated parallel parking, but new drivers are still required to pass other important tasks. Here's what the driver must do
U-turn: Turn your car within 30-40 feet.
Shifting: You must be able to shift smoothly.
Parking: Indicates that you can park your car directly in the parking lot. The car must be centered on the scene. (No more parallel parking!)
Quick stop: When driving at 20 mph, you need to stop quickly and safely.
Reverse Safely: You will need to back up 50 feet at slow speeds. Also, you can't use the mirrors, you should turn your head to look behind you.
Proper use of stop signs: Indicate that you can stop correctly and then enter the intersection only when it is safe to do so.
Blink and turn: Indicates that you can use the flash 100 feet before the turn. Stay in the correct lane: Indicates that you can stay in the correct lane and change lanes only if it is safe to do so.
Miami and Phoenix – Head to Head
We chose Miami as the center of the most populous metro area. Compared to Phoenix, the city of Miami is more than three times smaller—Phoenix has a population of 1.5 million, while Miami has a population of less than 500,000. But again – the Miami metropolitan area has a population of over 6 million. Phoenix can be seen as younger and cheaper, with higher median incomes and lower median home prices. Miami tops all other categories, but is surprisingly low on utilities.